RMS History
Rugby is located in a rural/ suburban setting in the Mills River Valley of Henderson County, and is part of the Henderson County Public Schools System.
Rugby has a proud and strong tradition dating back to 1840 when the first Rugby School was built. A replica of the one-room log school sits on the current Rugby campus as a living historical classroom.
The land on which the school is built today was donated by Leander and Vernon Johnson to the students of Rugby. The Johnson Farm, listed in the National Register of Historic Places, is located across from the Rugby campus.
Anchored in the past and looking to the future, Rugby Middle School continues to offer a quality education to its students.
School Mission Statement:
The Rugby Middle School community is committed to sharing the responsibility for creating a diverse learning environment where all students are embraced and empowered so they can achieve their full potential in the 21st century.
School Beliefs (Core Values)
We believe students will care when they know how much you care.
We believe education is a partnership involving student, teacher, parent, and community.
We believe all students can succeed.
We believe in promoting the expectations of Responsibility, Manners, and Spirit.
School Vision:
RMS strives to create a learning environment of high expectations that promotes acceptance for all students; honors and celebrates diverse learning styles, cultures, and opinions; and prepares them for a global society.
RMS Today – A Note From Our Principal Mr. Scott Moore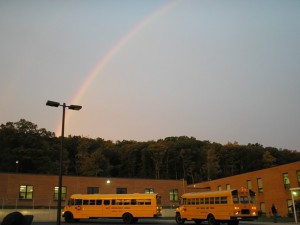 In 2013-14, Rugby Middle met all 38 of our Annual Measurable Objective target goals and achieved a performance composite well above the state average. We exceeded growth expectations set by the state in 7th- and 8th-grade reading, 8th-grade math and Math I, and 8th-grade science, and met state expectations for almost all other grade levels and subjects – resulting in our school as a whole exceeding the N.C. Department of Instruction's growth expectations for the 2013-2014 school year.
Each one of our teachers is highly qualified, and 30 have advanced degrees while 23 are National Board Certified – an optional intensive certification process with high standards for educators.
The numbers only tell part of the story. At Rugby Middle we are proud of our robust arts programs, including drama, visual arts, strings and band. Our interscholastic athletic programs also excel in the Blue Ridge Athletic Conference, where our students are led by solid coaches who extol teamwork and life skills while building winning programs. We are also very proud of our involvement with Project Lead the Way, a pre-engineering program in our Career and Technical Education courses.
Rugby Middle is one of seven schools in the country to have received a third "National School to Watch" designation from the Association of Middle Level Educators, and this year we earned a "Green Ribbon" designation in North Carolina's Positive Behavior Intervention & Support (PBIS) Initiative. Additionally, one of our teacher teams was recently named "Team to Watch" for Western NC by the North Carolina Association of Middle Level Educators.
As we move forward, Rugby Middle School's focus for improvement is on training staff to accelerate learning for all students in our school. We want our staff to continue to grow and become even more adept at meeting students where they are and accelerating their learning while they are under our tutelage. We hope to continue to build stronger home-to-school partnerships, allowing parents and the school to help craft students' individualized education.