On-Campus Screening Protocols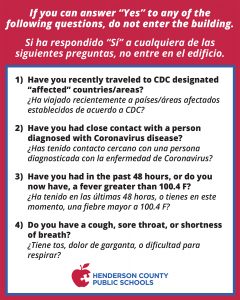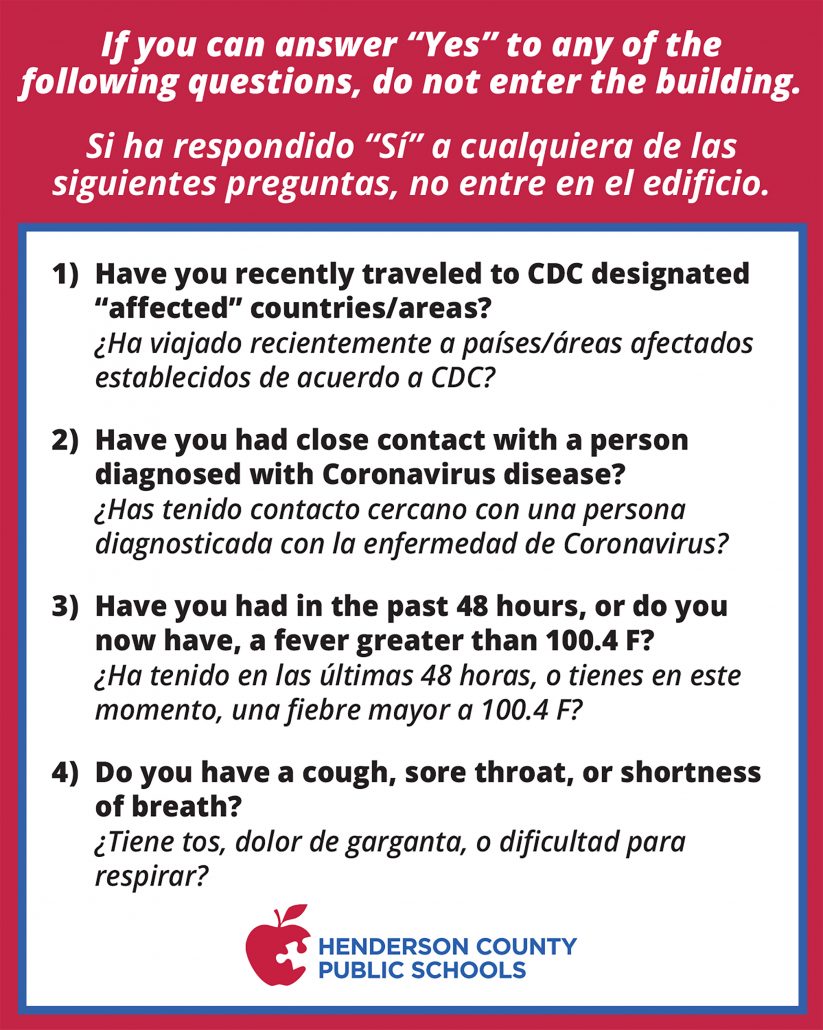 All staff, students, and visitors accessing a Henderson County Public Schools building/facility will be screened at the building/facility main entrance. Any person who answers YES to any one of the screening questions listed and/or has a temperature above 100.4 will be denied entry into the building/facility.
Temperature checks will be required of all individuals entering our school buses and campuses. Here's what that will look like for: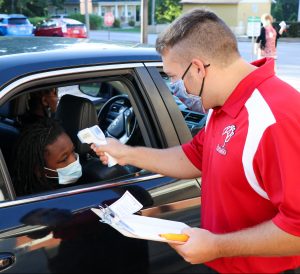 Student car riders – Designated staff members will be at the car rider drop-off points, taking temperatures of students before children exit the vehicles.
Staff and students on school buses – Bus drivers and any staff riding school buses will have their temperature checked on campus, before ever boarding their bus to pick up students. Students will board the bus like normal, wearing face coverings, and have their temperature checked once they arrive at school, before entering the building.
Everyone else – Individuals will have their temperatures checked at the touchless kiosks at the entrances to school and district buildings.
Individuals who present symptoms at school will be sent home, with directions from public health officials. School nurses will be using the steps on the NCDHHS flow chart included in the StrongSchoolsNC Public Health Toolkit (pg. 22) to screen individuals for COVID-19 symptoms.
If individuals with symptoms are unable to leave the school immediately, they will be monitored away from others in a privacy room until they are able to be picked up. Each school will have an area for isolation, as well as an area for nurses to provide routine care. School nurses have worked with individual principals to establish these areas, based on the logistics of each school.
When there is a positive COVID-19 case in a school, HCPS will send a SwiftK12 call to all families in that school. The Henderson County Department of Public Health is responsible for conducting contact tracing. Both the health department and HCPS will provide as transparent reporting as possible while still protecting confidentiality.
The health department will contact parents/guardians directly if their child is identified as having had close contact with a positive COVID case. The school district will not provide personally identifiable information of an infected person.
Families can reference this document in English and Spanish for more details on "What to Expect When There is a COVID-19 Case in a School."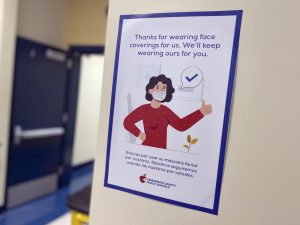 Per the N.C. Department of Health & Human Services guidelines, face coverings are required for everyone in our schools and on our buses – including students (K-12), staff, and any visitors to campus, unless an eligible exception applies.
Students are required to wear face coverings on all school buses and campuses. If a student does not have a face covering of their own, one will be provided to them by the school or bus driver.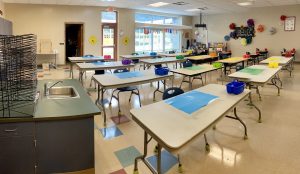 Social distancing will include spaced seating on buses and in class, marked reminders on floors, one-way directions in hallways where necessary, and fewer people in the building.
This means non-essential visitors and activities involving outside groups and organizations will also be limited, and activities that involve bringing together large groups of people (like assemblies, performances and field trips) are discontinued until further notice.