R2L Weekly: September 17, 2020
"R2L Weekly" has Henderson County Public Schools' most recent "Return to Learn" updates in each issue, posted on Thursdays at 5 p.m. Individual updates will be linked on our Return to Learn webpage (HCPSNC.org/ReturnToLearn), sent to families through SwiftK12 email and phone reminders, and shared on social media. R2L Weekly content is current as of Wednesday at noon.

On-Campus Screening Protocols
Temperature checks will be required of all individuals entering our school buses and campuses. Here's what that will look like for: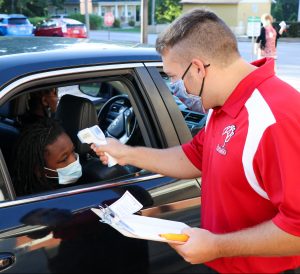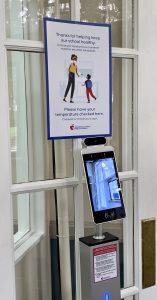 Student car riders – Designated staff members will be at the car rider drop-off points, taking temperatures of students before children exit the vehicles.
Staff and students on school buses – Bus drivers and any staff riding school buses will have their temperature checked on campus, before ever boarding their bus to pick up students. Students will board the bus like normal, wearing face coverings, and have their temperature checked once they arrive at school, before entering the building.
Everyone else – Individuals will have their temperatures checked at the touchless kiosks at the entrances to school and district buildings.
Individuals who present symptoms at school will be sent home, with directions from public health officials. School nurses will be using the steps on this NCDHHS flow chart to screen individuals for COVID-19 symptoms.
If individuals with symptoms are unable to leave the school immediately, they will be monitored away from others in a privacy room until they are able to be picked up. Each school will have an area for isolation, as well as an area for nurses to provide routine care. School nurses have worked with individual principals to establish these areas, based on the logistics of each school.
When there is a positive COVID-19 case in a school, HCPS will send a SwiftK12 call to all families in that school. The Henderson County Department of Public Health is responsible for conducting contact tracing. Both the health department and HCPS will provide as transparent reporting as possible while still protecting confidentiality.
The health department will contact parents/guardians directly if their child is identified as having had close contact with a positive COVID case. The school district will not provide personally identifiable information of an infected person.
Families can reference this document in English and Spanish for more details on "What to Expect When There is a COVID-19 Case in a School."

Under Plan B, breakfast and lunch options will be provided for students on campus during their assigned days, and take-home meals will be available for them to take home for their following remote learning day.
"Meals On the Bus" routes will not continue after Friday, Sept. 18, since buses will be used for transporting students daily under Plan B. However, Grab-and-Go meal pickup options will continue at 12 designated school sites.
Fully remote learners can access Grab-and-Go meals at the designated school sites from 11:30 a.m. to 1:30 p.m. Check the listing of meal pickup sites in the "Child Nutrition Services on Plan B" Google Document, which is also linked in the "Return to Learn: Auxiliary Services" webpage.
Remember, ALL children ages 2-18, regardless of "Paid," "Reduced" or "Free" status, will be able to receive meals from the HCPS Child Nutrition Department at no cost through the end of the calendar year, due to the U.S. Department of Agriculture's extension of the Summer Food Service Program through Dec. 31, 2020.
Child Care Services
Remember, face coverings are now required for children 5 years and older in HCPS Child Care facilities, per updated guidance from NCDHHS Division of Child Development and Early Education
Under Plan B, PSAM and PSPM Child Care Services through HCPS will be offered at each elementary school site for students on days they are scheduled to be on campus for instruction, based on their grouping. PSPLUS services will be offered at designated school sites on Optional Teacher Workdays and Required Teacher Workdays.
To accommodate families on days their children aren't scheduled to be on-campus for instruction, all-day Child Care Services for students in grades 3-5 will be offered at Fletcher and Sugarloaf elementaries, as spaces are available. Families should call 828-891-2363 for registration information.
Families can also reference the up-to-date listing of child care services and adult supervision supports in the community, updated in more detail below.

Child Care & Adult Supervision Supports
A few changes have been made to the up-to-date listing of child care services and adult supervision supports in the community HCPS and the Henderson County Education Foundation have compiled for families. These include added availability at the Boys & Girls Club, plus new options at the YMCA.