R2L Weekly: October 29, 2020
"R2L Weekly" has Henderson County Public Schools' most recent "Return to Learn" updates in each issue, posted on Thursdays at 5 p.m. Individual updates will be linked on our Return to Learn webpage (HCPSNC.org/ReturnToLearn), sent to families through SwiftK12 email and phone reminders, and shared on social media. R2L Weekly content is current as of Wednesday at noon.
UPCOMING CALENDAR REMINDERS:
– Tuesday, Nov. 3 is an Optional Teacher Workday, meaning schools and Child Care Services are closed for students. See below for Grab-and-Go meal pickup information.
– Wednesday, Nov. 11 is Veterans Day, meaning schools, Child Care, and Child Nutrition Services are closed.
– November 25-27 is Thanksgiving Break

Child Nutrition
Several changes to Grab-and-Go Meal pickup schedules will go into effect next week. Beginning Monday, Nov. 2:
Sugarloaf Elementary will discontinue meal pickup
Fletcher Elementary's service times change to 12-1 p.m.
Rugby Middle's service times change to 12-1 p.m.
Upward Elementary's service times change to 11:30 a.m.-1 p.m.
These schedule changes have been updated in the "Child Nutrition Services on Plan B" Google Document for families.

Attendance & Grades
HCPS continues to be committed to helping our students achieve academically. While the Board of Education recently voted to waive tying the attendance policy to promotion, the End-of-Year promotion standards remain and academic progress is based on what students demonstrate they know and can do.
It is important for students and families to remember that students can demonstrate their academic progress by completing classroom assignments and by their performance on End of Year State Assessments.
We know students perform better academically when they consistently attend and engage in their classes.Parents and families can partner with teachers and schools to help their students be successful by establishing a consistent routine of attending and engaging in their classes. If students are scheduled to be in class in-person, parents and guardians can encourage and support them to be at school. If students are learning remotely, families can support them in being ready for school and online on time, preferably with cameras on to increase engagement and interaction.
Consistency is the key. Watching a recording of a lesson is a resource for students when "live" engagement in a class isn't a possibility, but it cannot replace the learning experience of attending class with a teacher in real-time – either virtually or in-person.
For questions regarding report card grades or attendance, please contact your child's teacher to discuss support options.

Health Department Tips for a Safe Halloween
The Henderson County Department of Public Health has some recommendations on how families can enjoy the upcoming holidays while remaining careful and safe during the COVID-19 pandemic. Check out this e-flyer, sent to families through Peachjar.
New Health Department Column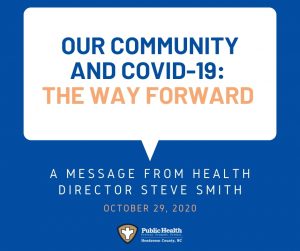 Authored by Henderson County Health Director Steve Smith, "Our Community and COVID-19: The Way Forward" is a new weekly column intended to inform and expand the community perspective about the shared challenges in the days ahead. The Henderson County Department of Public Health aims to update this message weekly, to provide additional focus on the human element to the COVID-19 data and trends seen in our community.
The column is updated online HERE, and also available in PDF form.

State Child Care Financial Assistance
The North Carolina Division of Child Development and Early Education (DCDEE) has established the Emergency School-Age Family Support Program, which provides financial assistance for child care to parents/primary caregivers who have a school-age child who is attending a licensed child care facility (child care center or family child care home) or a registered community-based organization (CBO) for remote learning as a result of the COVID-19 crisis.
This program is effective October 1 to November 30, 2020. Families must fill out the application, turn it into their remote learning site, and the remote learning site will connect with DCDEE to process getting funds to the community organization.
The COVID-19 Parent Application for Financial Assistance for Emergency School-Age Family Support Program for October and November is available in English and Spanish.
Resources for Resilience
This fall, families are invited to Resources for Resilience's free, virtual events: "Reconnect for Resilience" trainings and "Listening Circles."
Resources for Resilience shares practical tools to support North Carolina parents and caregivers. The "Reconnect for Resilience" trainings are 14-hour virtual classes offering  educators, families, and school communities a set of easy-to-use tools to stay well in the face of adversity. The "Listening Circles" are an online forum moderated by trained facilitators where parents, caregivers, teachers, and school staff can connect with each other and talk about current stressors.
For more info, check out this flyer. To sign up, register online here or contact Smart Start Partnership for Children Program Director, Kelly Hart, at (828) 693-1580 or kelly@smartstartpfc.org.