R2L Weekly: November 5, 2020
"R2L Weekly" has Henderson County Public Schools' most recent "Return to Learn" updates in each issue, posted on Thursdays at 5 p.m. Individual updates will be linked on our Return to Learn webpage (HCPSNC.org/ReturnToLearn), sent to families through SwiftK12 email and phone reminders, and shared on social media. R2L Weekly content is current as of Wednesday at noon.
Upcoming Calendar Reminders
– Wednesday, Nov. 11 is Veterans Day, meaning schools, Child Care, and Child Nutrition Services are closed.
– November 25-27 is Thanksgiving Break.

SwiftK12 Phone Calls
Our schools have heard from several families that they're not receiving SwiftK12 calls from the district and schools, or their phones are automatically silencing or blocking the calls. Here are some troubleshooting tips to make sure you're receiving important messages from HCPS:
– Make sure your child's school has your accurate phone number and email (if one is available) on file.
– Check your phone's settings and see if "block unknown callers" or "silence unknown callers" is activated. If so, you can add the district's and schools' unique SwiftK12 phone numbers as contacts (e.g. "Rugby SwiftK12") in your phone, so they're not flagged as unknown numbers that are automatically blocked or silenced. It's recommended to add individual contacts for all the schools your children attend, in addition to the HCPS number.
Click on the name of your child's school to see the original June 29 website post about school-specific SwiftK12 information.

Drive-Thru Flu Vaccination Clinic Nov. 10
The Henderson County Department of Public Health will offer a drive-thru flu vaccination clinic to the public Nov. 10 from 3 to 6 p.m. in the parking lot of 1300 Seventh Avenue E., Hendersonville. The lot is located between Seventh Avenue and Hwy. 64 near Lowe's Home Improvement.
Insurance will be filed for those who have it and the vaccine is available at no charge to those who are uninsured. Additional information and consent forms can be found at www.hendersoncountyflu.org.

Children & Family Resource Center Programs
These program offerings by the Children & Family Resource Center are free resources for parents and caregivers of children of varying age levels:
Incredible Years Parent Program
includes a Preschool Series and School-Age Series of weekly online parenting sessions for 14 weeks via Zoom. Participants learn new parenting skills and are supported in navigating the ups and downs of parenting.
The upcoming Spring 2021 meetings for the School-Age Series (for parents of 6-12-year-olds) begin Thursday, January 21st, and will be held every Thursday for 14 weeks. The online class will meet from 6:30-8:30 p.m.  For more info or to enroll, call 828-242-9914 or email beckiw@childrenandfamily.org.
Virtual Circle of Parents
Groups meet online each week, providing parents/caregivers opportunities to connect with other families, engage in conversation with other adults, and offer support to one another during this challenging time.
During the fall, Circles are available to families in parenting roles on Mondays at 8 p.m., Wednesdays at 8 p.m., and Thursdays at 2 p.m. For Zoom login information, see this link or the graphic below.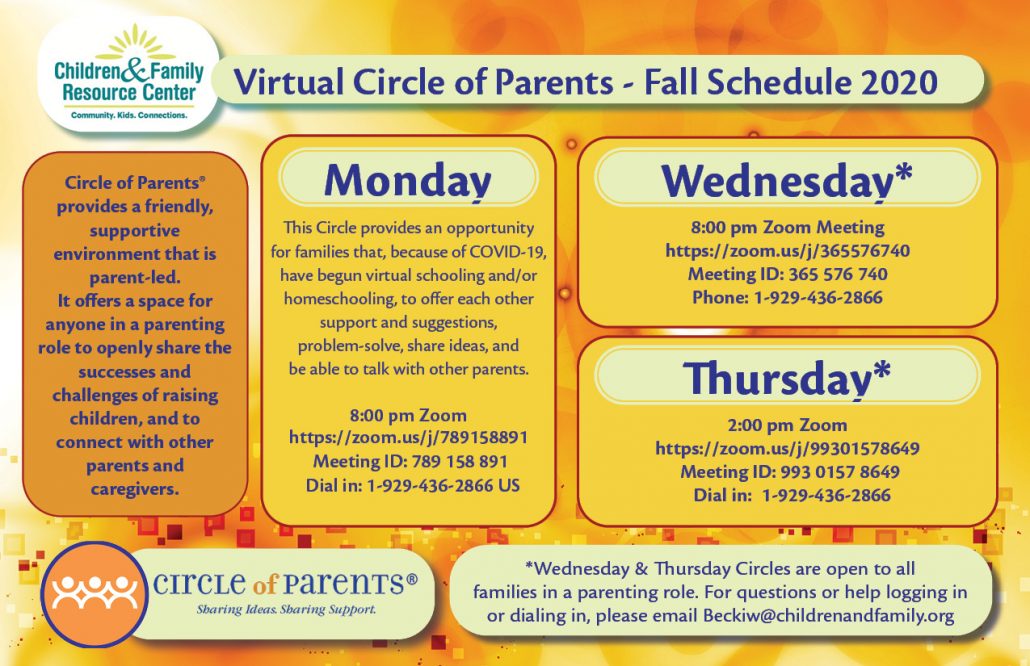 Free Diaper Drives
Open to all Henderson County families in need, a free Diaper, Wipes & Infant Formula Drive-Thru is on Friday November 6 from 11 a.m.-1 p.m., and Tuesday, November 17 from 5:30-7 p.m. at 851 Case Street, Hendersonville. Items will be distributed in a drive-thru manner, maintaining a safe distance for both families and staff. The CFRC asks that everyone remains in their car for distribution. The drive-thru will continue every Friday as long as supplies and funds to purchase supplies are available.