R2L Weekly: March 11, 2021
"R2L Weekly" has Henderson County Public Schools' most recent "Return to Learn" updates in each issue, posted on Thursdays at 5 p.m. Individual updates will be linked on our Return to Learn webpage (HCPSNC.org/ReturnToLearn), sent to families through SwiftK12 email and phone reminders, and shared on social media. R2L Weekly content is current as of Wednesday at noon.

Governor Cooper's Announcement
On Monday, the Henderson County Board of Public Education approved Plan B for Grades 6-12 until Plan A was an option, with the intent to schedule a Special Called Board Meeting to transition all schools to fully in-person learning as soon as Plan A for upper grades was allowed under state guidelines.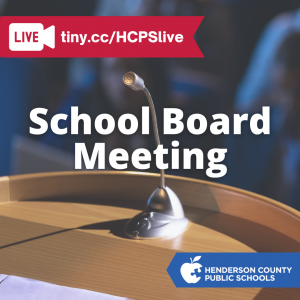 On Wednesday, Governor Cooper and legislative leaders announced details of compromise legislation on reopening schools. Passed today, March 11, this legislation allows Grades 6-12 to operate in either Plan A or Plan B, effective as soon as Senate Bill 220 is signed into law by the Governor and the district notifies NCDHHS of its plan.
School board members will hold a Special Called Board Meeting tomorrow, Friday, March 12 at 10 a.m., to consider the transition of middle and high school students to Plan A.
Under the new legislation, school districts will still be required to offer a remote-only option for students whose families do not want to return to fully in-person learning.
For coverage of Gov. Cooper's announcement on Wednesday, visit https://wr.al/1K6Xk.
2021-2022 Calendar Update
This week, the 2021-2022 Traditional Calendar with a start date of August 23 was approved by the school board, after having been tabled during their February meeting.
Given existing North Carolina school calendar law that requires a start date of no earlier than the Monday closest to August 26, and the necessity to approve a calendar before April, the August 23 version of the Traditional Calendar was adopted. However, board members are in conversations with legislators in the N.C. General Assembly to propose a bill that would allow HCPS to start a week earlier on August 16 (instead of August 23) to align with local community college calendars and allow schools on the block schedule to complete the first semester before dismissing for Winter Break. If the General Assembly made a change allowing districts an earlier start date, families can expect the board to change the start date to August 16.
As it stands right now, the 2021-2022 Traditional Calendar includes a Winter Break of Dec. 20-31, 2021, a Spring Break of March 14-18, 2022, and the last day of school on June 3*. Find all the 2021-2022 school calendars online at www.HCPSNC.org/district/calendar.
*the Traditional Calendar includes flexibility to be extended for students until Friday, June 10, 2022 due to inclement weather.
Report Cards
This week is the end of the Third Quarter, and report cards will be released March 17.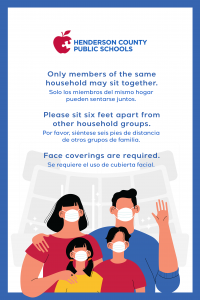 Outdoor Athletics Attendance
We're so excited to have our fans back in-person! Eased restrictions under the Governor's Executive Order 195 have increased the capacity limits at our outdoor athletic facilities, but we remind our families that important guidelines are still in place to prevent community spread of COVID-19 as we slowly return to a sense of normalcy.
Families should follow these guidelines when attending athletic events at outdoor HCPS facilities, and can expect on-campus signage reminding them of the following:
Only members of the same household may sit together.
Please sit six feet apart from other household groups.
Face coverings are required.

Addressing End-of-Year Questions
With spring rounding the corner, we know families have questions about how the end of the school year will look, compared to years past and the major adjustments of 2020. We want families to know district leaders and principals are examining existing and anticipated state guidance for the months to come, and are working to address questions like:
Will high schools have prom, and what will that look like?
What will graduation look like this year?
What will other end-of-year activities look like?
At this time, it's too early in the semester to definitively commit to any specific events, but we naturally hope to be able to offer some types of in-person end-of-year events if restrictions on mass gatherings continue to be lifted, and community spread of COVID-19 decreases in our community.
We will continue to monitor the health data in our county as we explore all options for our end-of-year celebrations, and communicate any future decisions to our families, as we have been doing throughout the pandemic.