R2L Weekly: January 14, 2021
"R2L Weekly" has Henderson County Public Schools' most recent "Return to Learn" updates in each issue, posted on Thursdays at 5 p.m. Individual updates will be linked on our Return to Learn webpage (HCPSNC.org/ReturnToLearn), sent to families through SwiftK12 email and phone reminders, and shared on social media. R2L Weekly content is current as of Wednesday at noon.

Second Semester Checkpoint
Second quarter report cards went out this week, and with our second semester beginning, it's a good time to check in and make certain your child is on track for the remainder of the school year. How? Check out these ideas and supports:
Keep in touch! Stay on top of where your child is academically through frequent communication with the teacher.  If you have concerns about your child's progress, or received a request for a teacher conference, please reach out to the teacher as soon as possible.
Want to know your child's assignments? Check out their Google classroom/s on a regular basis.
Curious if their work has been completed? See how your child's work in Google Classrooms is translating into grades by checking your PowerSchool Parent Portal. That's where students' actual grades for received and graded assignments are recorded. Additional support can be found on the Remote Learning site for HCPS to help your child succeed in the new semester.
Have a talk with your child to re-establish commitments for learning, especially now that we have returned to a fully remote model. If you find your child needs additional materials (see the Top 10 List below) or social emotional support to be successful, don't hesitate to contact your child's teacher, counselor, or principal. They are here to help!
We continue to work to prepare our students for long-term academic success, and appreciate your help in keeping them engaged and on track, and supporting their academic stability through this irregular school year.
Tuning Into Athletics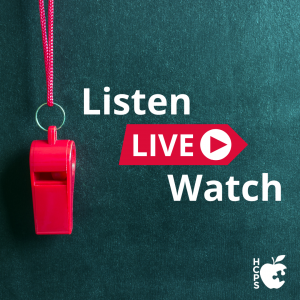 Now, there's more ways than ever to tune into your home team! Our updated Athletics page at www.HCPSNC.org/Athletics lists how to access livestream video through our schools' NFHS Network and YouTube channels, plus from-the-sidelines radio broadcasts by WTZQ Radio!
Henderson County PUblic Schools (HCPS) gives special thanks to Horizon Heating & Air, our new "District Champ for HCPS Athletics" and presenting sponsor for our NFHS Network livestreams this year!

Henderson County's Vaccination Plan
Update!
At the time of this publication, the N.C. Department of Health & Human Services has just restructured the state's COVID-19 Vaccination Plan, into 5 Groups instead of Phases with subgroups. At this time, Henderson County is currently in Group 2: Older Adults, vaccinating anyone 65 years or older, regardless of health status or living situation.

The Henderson County Department of Public Health has just shared with the public how this statewide change affects local vaccination efforts and individual eligibility.
In the meantime, HCPS continues to serve as one of several community partners supporting the logistics and workforce needs of Henderson County's vaccination effort. Currently, this means various school campuses will be provided as sites for mass vaccination clinics hosted by the Henderson County Department of Public Health (HCDPH), Blue Ridge Community Health (BRCH), and Pardee UNC Health.

Adult Supervision Supports
New Listing:
Hendersonville Church is a new addition to the up-to-date listing of child care services and adult supervision supports in the community HCPS and the Henderson County Education Foundation are compiling for working parents and guardians to reference.