R2L Weekly: February 4, 2021
"R2L Weekly" has Henderson County Public Schools' most recent "Return to Learn" updates in each issue, posted on Thursdays at 5 p.m. Individual updates will be linked on our Return to Learn webpage (HCPSNC.org/ReturnToLearn), sent to families through SwiftK12 email and phone reminders, and shared on social media. R2L Weekly content is current as of Wednesday at noon.

Gov. Cooper's Tuesday Press Conference
This week, Gov. Roy Cooper made an announcement recommending schools in North Carolina provide in-person instruction using safety protocols outlined by the N.C. Department of Public Instruction and N.C. Department of Health & Human Services in the "NC Strong Schools Toolkit."
As they have been for the last several months, the district's fluid "Return to Learn" plans will be discussed and considered by the Henderson County Board of Public Education on Monday, at the board's regularly scheduled meeting at 4 p.m. Currently, HCPS continues to operate under Plan B for grades 4-12, with grades K-3 attending school in-person every school day.
Monday's school board meeting will be live-streamed on the district's YouTube channel here at 4 p.m.
Midterms Already?
The 3rd quarter is moving quickly and mid-term reports will be available on February 11, 2021. These reports are accessible through ParentPortal.
Remember, while it may be helpful for parents and families to check their child's Google Classroom account to view the status of various assignments, actual grades for received and graded assignments are recorded in the PowerSchool Parent Portal.
Check out how easy it is to access your student's grades in the tutorial videos below:
ACT® Date & Weekly Schedule Change in March
The Plan B Hybrid learning schedule will be slightly different for middle and high school students the week of March 8-12, to accommodate the state-mandated ACT testing schedule and requirements.
The ACT® is a curriculum- and standards-based assessment that evaluates 11th-graders' general learning outcomes in English, Mathematics, Reading, and Science. Used as a college admissions and placement test, the ACT® is accepted by all four-year colleges and universities in the United States.
Although the ACT® is a high school test specific to 11th-graders, the middle school Plan B hybrid schedule must be adjusted along with the high school schedule, due to bus routes shared between middle and high schools, and the need to dedicate transportation on March 9 to juniors taking the ACT®.
The week of March 8-12 will begin like a normal Plan B Hybrid week, with middle and high school students in Group A attending school on campus Monday, March 8.
Tuesday, March 9 is an ACT® test date for high school juniors in North Carolina. Since students are required by state officials to take this test and the ACT® does not offer a remote administration option, all juniors in Group A and B will attend school on-campus on March 9. All other students in middle and high school will have a Remote Learning Day, instead of the usual district-wide day of remote learning on Wednesday.
The following day, March 10, will be a "B Day" for students in Group B to attend on-campus. March 12 is currently an Optional Teacher Workday and not a student day. However, in the case of inclement weather canceling school in the next few weeks, could become a student day and "B Day" for Group B students to attend on-campus.
Here's what that looks like: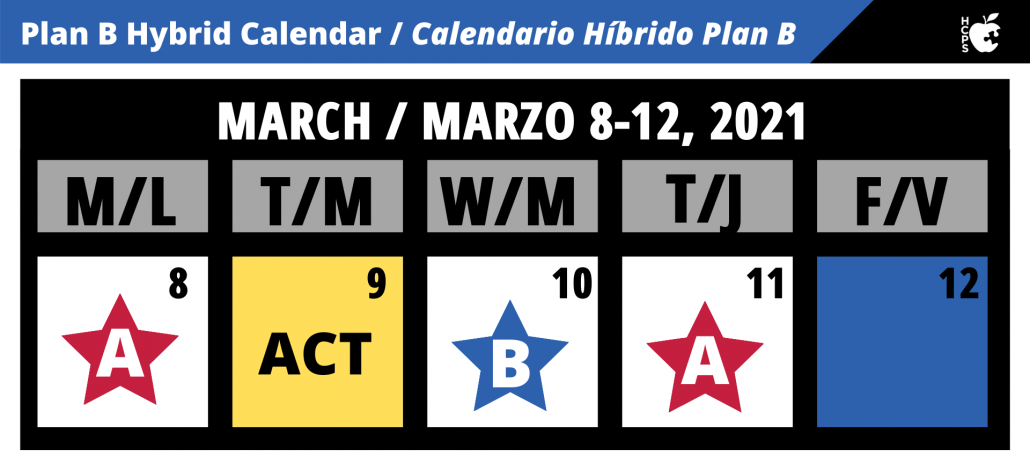 March 8: Group A on campus, Group B remote (like usual under Plan B)
March 9: All juniors on campus to take the ACT. Remote Learning Day for all other middle and high school students
March 10: Group B on campus, Group A remote
March 11: Group A on campus, Group B remote (like usual under Plan B)
March 12: Optional Teacher Workday, no school for students*
* if changed to a student day, Group B on campus, Group A remote (like usual under Plan B) 
Calendar Updates & Reminders
Revised 2021 Calendar
The calendar for the current 2020-2021 school year has been revised this week, to reflect the January 8 snow day and slight changes to make up instructional hours: instead of Early Dismissal days, February 12 and April 2 will now be full student days.
To receive push notifications whenever a school calendar is updated, download the HCPS Mobile app, access account settings, and turn on the "Calendar Updates" notifications. Or view the most up-to-date district calendars online at HCPSNC.org/district/calendar/.
2-Hour Delays on Plan B
It's still blustery and cold outside, which means we may see additional inclement weather days. Remember, now that HCPS is operating under Plan B, a 2-Hour Delay means instruction for both face-to-face and remote students begins at 10 a.m.
This revised 2-Hour Delay school day for remote learners is from 10 a.m. to 2 p.m. In-person learners scheduled to attend on-campus are in school from 10 a.m. until the remainder of the traditional school day, unless otherwise communicated to families by their individual schools.