R2L Weekly: February 25, 2020
"R2L Weekly" has Henderson County Public Schools' most recent "Return to Learn" updates in each issue, posted on Thursdays at 5 p.m. Individual updates will be linked on our Return to Learn webpage (HCPSNC.org/ReturnToLearn), sent to families through SwiftK12 email and phone reminders, and shared on social media. R2L Weekly content is current as of Wednesday at noon.

HCPS Educators Receiving COVID-19 Vaccines
Ever committed to being safely present in schools for their students, 70% of HCPS employees who responded to a staff survey sent in January indicated their desire to receive the COVID-19 vaccine. This staff survey was a key element of the district's employee vaccination plan, which HCPS has been developing with local healthcare providers since January, based on vaccine availability and pending eligibility.
Through Pardee UNC Health Care and Blue Ridge Health's efforts to intentionally designate portions of their vaccine allocations for educators, HCPS has been given the opportunity to schedule 1,300 vaccination appointments, which covers every employee who's currently requested to receive a vaccine this week.
"Our teachers, bus drivers, custodians, child nutrition staff, and other personnel want to be in schools with their students, and they want to do so in the safest learning environments possible," Superintendent Dr. John Bryant said yesterday. "They've been eager to roll up their sleeves for HCPS, and we are so grateful to Pardee UNC Health Care and Blue Ridge Health for prioritizing the health and safety of these daily heroes."
Check the #SleevesUp4Schools hashtag on social media to see HCPS educators sharing their reasons for getting the COVID-19 vaccine!

Kindergarten Registration NOW OPEN!
The online Kindergarten Registration form is live and accepting registrations at KReg.HCPSNC.org!
Last week we invited new kinder families to submit questions about Kindergarten Registration and promised videos of principals and staff addressing those frequently asked questions. The first of the "Principals Answer" videos was shared Tuesday, and the second dropped today. Check them out below, and check the HCPS Facebook and Twitter feeds on Monday for the final video!
Be sure to check the HCPS Facebook and Twitter feeds this week and next for videos of elementary school principals answering your submitted questions about kindergarten registration!
REMINDER: The end of the 3rd Quarter is Thursday, March 11, and report cards will be available on March 17.

Reminder: (P-EBT) Program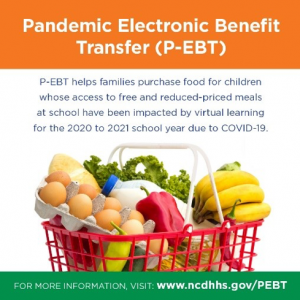 North Carolina will continue to provide additional benefits through the Pandemic Electronic Benefit Transfer (P-EBT) program to help families purchase food for children whose access to free and reduced-priced meals at school has been impacted by virtual learning for the 2020 to 2021 school year due to COVID-19.
NC P-EBT benefits received in February will be for the months of August to December 2020. Benefits for each eligible month may be received over several days to avoid overwhelming authorized retailers. Those who do not have the card and are eligible during these months should anticipate receiving their cards in February or March.
Have questions about who is eligible for NC's Pandemic Electronic Benefit Transfer (P-EBT) program and how to use the benefits? These questions and more are answered on the P-EBT webpage.