R2L Weekly: February 18, 2021
"R2L Weekly" has Henderson County Public Schools' most recent "Return to Learn" updates in each issue, posted on Thursdays at 5 p.m. Individual updates will be linked on our Return to Learn webpage (HCPSNC.org/ReturnToLearn), sent to families through SwiftK12 email and phone reminders, and shared on social media. R2L Weekly content is current as of Wednesday at noon.

Important Update: Pandemic Electronic Benefit Transfer (P-EBT)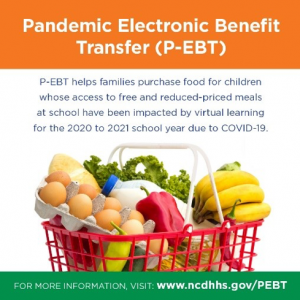 North Carolina announced it will continue to provide additional benefits through the Pandemic Electronic Benefit Transfer (P-EBT) program to help families purchase food for children whose access to free and reduced-priced meals at school has been impacted by virtual learning for the 2020 to 2021 school year due to COVID-19. P-EBT is a collaboration between the NC Department of Health and Human Services and the NC Department of Public Instruction.
The P-EBT benefits will be provided through the current EBT system. EBT is an electronic system that replaced paper food stamp coupons with a card that is like a debit card. Pandemic Electronic Benefits (P-EBT) provides a benefit on an EBT, or Electronic Benefits Transfer, card. The P-EBT card functions like a standard EBT card. The P-EBT card can be used to purchase food items at EBT authorized retailers, including most major grocery stores.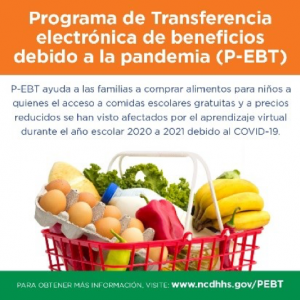 Benefits received in February 2021 will be for the months of August to December 2020 for those students who are eligible.
Families do not need to apply for P-EBT. Eligible families already receiving Food and Nutrition Services (FNS) benefits will receive an additional benefit on their existing EBT card. Eligible families who do not have an FNS or P-EBT card will be mailed a card.
For more information about P-EBT eligibility, about the program, who is eligible, and how families will receive the benefit, please visit www.ncdhhs.gov/PEBT.

Kindergarten Registration Opens Next Week!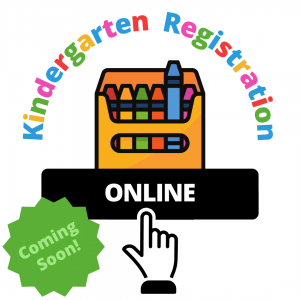 We're so excited to begin enrolling the Class of 2034, we're kicking off kindergarten registration earlier than ever this year! Beginning next Tuesday, February 23, families can register new kindergarteners for the 2021-2022 school year using a convenient online registration form.
Once the enrollment form is live and accepting registrations on Feb. 23, the link to register will be shared publicly on the HCPS website, social media, and in advertisements across local online and print media.
If you're new to the kindergarten registration process, or if it's the first time you've done it online, you may have some questions.
Here are the "must haves" that guardians will need to have in hand when registering a child for kindergarten:
– Official Birth Certificate: (a certified copy of birth certificate is preferred; a mother's copy of birth certificate, passport or other official indication of birth is acceptable). A certified copy may be obtained at the Register of Deeds office in the city of birth or go to www.vitalcheck.com/?clicked=1
– Proof of Residence (example: utility bill with physical address)
Below is a list of the documents a child's school will need by the first day of school:
– Immunization Record
– Physical exam
– Social Security Number (desired, but not required)
Have other questions about kindergarten registration that aren't addressed here? Submit your questions about the kindergarten registration process in this Google Form, and tune into HCPS Facebook and Twitter feeds next week for videos of elementary school principals with the answers!
Share Your Love for Educators on NC Digital Learning Day!
NC Digital Learning Day is coming up next week on February 25, and we're inviting families to help us celebrate our educators through tools developed by the state!
What is it? Digital Learning Day became a national annual event 10 years ago as a way to highlight effective digital teaching and learning and to share promising practices. This year, North Carolina Digital Learning Day (#NCDLDay) will be an opportunity to celebrate and honor educators in our state.
From now through #NCDLDay on February 25 (and beyond!), the NCDPI Digital Teaching and Learning Division is inviting NC educators to visit the NC Digital Learning Day Wakelet and share stories of overcoming challenges, connecting with students, and finding moments of joy and success among the grief and struggles of the last year. This Wakelet will also be a space where NC educators can inspire colleagues by sharing a favorite digital learning resource, a motivating quote, and more. Everyone is welcome to join the celebration, which is where our HCPS Families come in! Visit the #NCDLDay Wakelet to explore the stories and resources shared, and take a moment to share a sentiment of appreciation and gratitude for our amazing educators.
Be sure to visit the Wakelet often to see new content, and follow NCDPI Digital Teaching and Learning on Twitter and Facebook as well as the hashtag #NCDLDay for even more moments of celebration as we honor North Carolina educators.
Families and students can also download and use NCDLDay "thank you note" templates and graphics (like the one pictured) to share social media posts of gratitude to favorite teachers, and backgrounds for virtual classroom and meeting spaces.
How to contribute to the #NCDLDay Wakelet:
Visit: http://bit.ly/NCDLDay21
Enter your name in the Add your name box (or log in to your Wakelet account)
Click the + and select the type of contribution. You can share a website, image, video, document, add text, and more!
Click "Done"