R2L Weekly: February 11, 2021
"R2L Weekly" has Henderson County Public Schools' most recent "Return to Learn" updates in each issue, posted on Thursdays at 5 p.m. Individual updates will be linked on our Return to Learn webpage (HCPSNC.org/ReturnToLearn), sent to families through SwiftK12 email and phone reminders, and shared on social media. R2L Weekly content is current as of Wednesday at noon.

Elementary Schools on Plan A Starting Feb. 18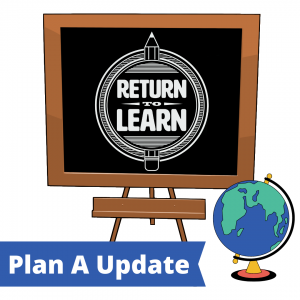 Grades 4 and 5 are transitioning to Plan A on Thursday, February 18, meaning that all elementary schools will be operating under Plan A.
This transition is once again part of the district's continuing efforts to reintroduce more students to the traditional face-to-face learning environment, as long as it is allowable under Executive Order and advisable by local public health officials.
The transition of 4th and 5th graders to fully in-person learning on Feb. 18 also follows Gov. Cooper's announcement earlier this month that  K–5 students "should" return to in-person instruction 5 days per week "to the fullest extent possible while following all public health protocols" under Plan A.
As we bring all elementary schools under fully in-person operations, we know that Plan A implementation will eliminate social distancing within classroom environments and on school buses for all elementary students. Additionally, 6 feet of social distancing is no longer required in elementary schools, according to the updated guidelines in the StrongSchoolsNC Public Health Toolkit. These new guidelines still do not permit middle and high school students to attend fully in-person under Plan A.
The Engage Remote Learning Option (RLO) is still available for any family that does not wish to participate in face-to-face, on-campus learning.
Coming Soon: Kindergarten Registration Online!
Do you have a child who will be 5 years old on/before August 31, 2021?
Get ready, because we're kicking off our convenient online kindergarten registration on February 23! Stay tuned for more information, and the link to enroll the Class of 2034!
2021-2022 Calendar Update
This week, both the Flex Calendar and Early College Calendars for the 2021-2022 school year were approved by the school board. They will be updated on the district Calendar website in the next week. However, the Traditional Calendar has been tabled until the March meeting. Board members plan to address the N.C. General Assembly with joint support from local stakeholders, requesting permission to allow HCPS to create a Traditional Calendar with an earlier start date of August 16 (instead of August 23) to align with local community college calendars.
Reminder: ACT® Dates & Weekly Schedule Change
Remember, the Plan B Hybrid learning schedule will be slightly different for middle and high school students the week of March 8-12, to accommodate the state-mandated ACT testing schedule and requirements. Middle and high school families received a call last evening about the future schedule change, and can read more details in this post on our website.

All-Day "PLUS" Child Care Services Ending
The PLUS (all-day) program at Sugarloaf Elementary has been under evaluation for financial feasibility during Plan B. The program will be offered through Wednesday, February 17, after which point it will be discontinued for the remainder of the school year. This follows the financial feasibility evaluation, and coincides with the transition of all elementary students – Kindergarten through 5th grade – to fully in-person learning on Feb. 18.
The few families currently using this service at Sugarloaf have already been informed of the district's plans for discontinuing PLUS care

New Health Department "Vaccine Update"
The Henderson County Department of Public Health has added a weekly "Henderson County Vaccine Update" to its general vaccine page, to publicly share data on the Health Department's overall vaccination campaign and show progress on the local Vaccine Waitlist. See the graphic below for this week's Henderson County Vaccine Update, and this link for more details about its data points.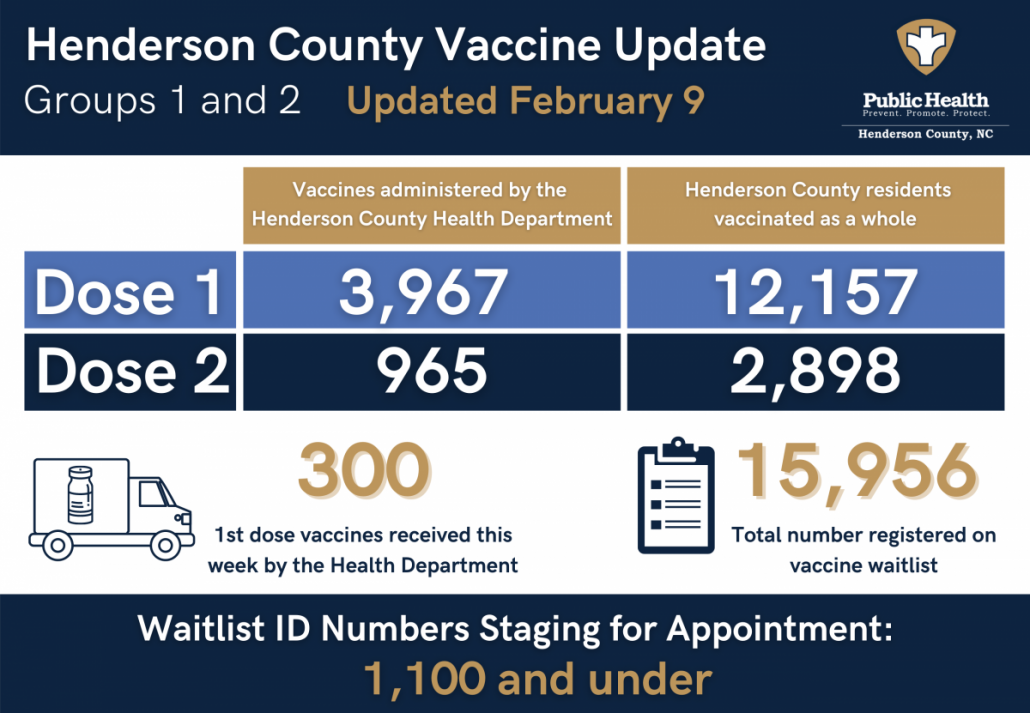 This will be updated weekly each Tuesday afternoon. For the latest county-wide numbers on vaccines administered by all providers, continue to refer to the N.C. Department of Health and Human Services Vaccine Dashboard.