R2L Weekly: December 17, 2020
"R2L Weekly" has Henderson County Public Schools' most recent "Return to Learn" updates in each issue, posted on Thursdays at 5 p.m. Individual updates will be linked on our Return to Learn webpage (HCPSNC.org/ReturnToLearn), sent to families through SwiftK12 email and phone reminders, and shared on social media. R2L Weekly content is current as of Wednesday at noon.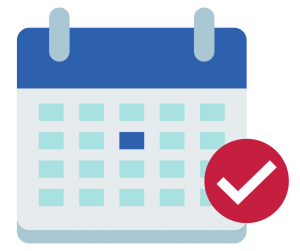 CALENDAR REMINDERS:

– December 22: early dismissal for students (12 p.m.)

– December 23-January 6: Winter Break (no school for students).
NOTE: this also means there will be no "R2L Weekly" editions on Dec. 24 or Dec. 31.

The 12 Days After Christmas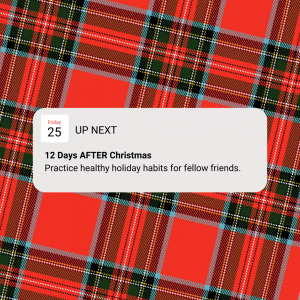 While our families who celebrate on December 25 may be singing the "12 Days of Christmas" this week, it's the 12 Days After Christmas that district administrators and local public health officials want our HCPS Family to consider.
Even in the current absence of any COVID-19 transmissions or outbreaks in any of our schools, individual schools' staffing capacity to operate safely is of critical concern moving forward.
Simply put, COVID-19 can become a workforce issue. Based on Henderson County Department of Public Health contact tracing protocols, quarantine guidelines, and employees waiting on pending test results, it is entirely possible that individual schools may not have adequate staff to safely serve, support, and supervise students for face-to-face instruction if we don't remain vigilant through the holiday season.
Therefore, since the "12 Days After Christmas" equates to nearly a full 14-day quarantine period before the HCPS Family returns to campuses, public health officials and HCPS administrators recommended staff, students, and families use that time to avoid gatherings, practice the 3Ws, and celebrate the holidays safely for our fellow friends.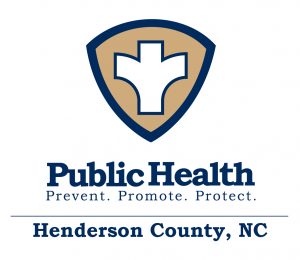 NOTE: the local health department is not testing asymptomatic individuals seeking a negative test in order to travel. The HCDPH recommends using the Find My Testing Place tool to find another testing opportunity in the community. Public health officials also remind families that a negative test only gives information for that point in time, and is not a free pass. Anyone who receives a negative test should still wear a face covering and stay socially distant from others.

Student Meals Over Winter Break
Remember, our Child Nutrition Services will be providing student meals over the Winter Break at Hendersonville Middle and Sugarloaf Elementary. Students may pick up a week's worth of meals at the following scheduled pick-up events:
Monday, Dec. 28, 2020 from 3:30-5:30 p.m.
Monday, Jan. 4, 2021 from 3:30-5:30 p.m.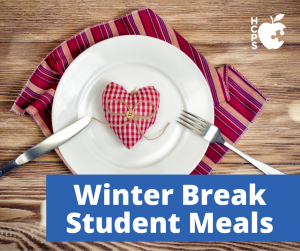 What's included?
In the Dec. 28 pickup, students will receive a hot late lunch/early dinner meal for Dec. 28; breakfast and lunch meals for Dec. 29, Dec. 30, Dec. 31, and Jan. 1; and fresh vegetable produce provided by Flavor 1st.
In the Jan. 4 pickup, students will receive a hot late lunch/early dinner meal for Jan. 4; breakfast and lunch meals for Jan. 5 and Jan. 6; and breakfast for Jan. 7.
Our schools and Child Nutrition staff are especially thankful to the Henderson County Education Foundation for providing supplemental funding so students can have healthy meals while school is out of session.

As the Winter Break approaches, we encourage students and educators to take a break from their screens and enjoy a favorite book, board game, craft activity or midday nap. With gratitude for the learning and skill development accomplished this first half of the school year, students and families should take this opportunity to recharge for next semester by tending to self-care and rejuvenation. A happy, safe, and healthy holiday to each of you!