R2L Weekly: December 10, 2020
"R2L Weekly" has Henderson County Public Schools' most recent "Return to Learn" updates in each issue, posted on Thursdays at 5 p.m. Individual updates will be linked on our Return to Learn webpage (HCPSNC.org/ReturnToLearn), sent to families through SwiftK12 email and phone reminders, and shared on social media. R2L Weekly content is current as of Wednesday at noon.

Inclement Weather Expectations for In-Person & Remote Learners
With students across the school system attending class both in-person and virtually, we know parents and families are wondering, "What will the 'inclement weather' day schedules look like this year?"
At this time, unless otherwise specified, any delay in school start times or closures will be the same for in-person and remote learners. For example, under a 2-Hour Delay, in-person students would be expected to arrive at school by 10 a.m. and remote learners would be expected to log into their Google Classrooms by 10 a.m.
As in years past, specific details about any weather-related school closure – and what it means for students and staff – will be communicated in the individual closure alert. Any changes to inclement weather alerts and schedule expectations will be communicated to families by the district.
Exams Reminder for Families of High Schoolers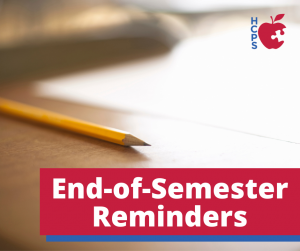 With exams beginning soon for semester courses, this message is a reminder and encouraging call-to-action for students to finish the semester strong. State Board of Education policy mandates that final exams count toward 20% of a student's course grade and, unlike the Spring 2020 semester, state officials have not provided a pass/fail option this semester.
Parents and families, we appreciate your support in making sure students attend to their academic performance by completing outstanding assignments and studying for their upcoming exams. If you have questions about your child's performance in a class, please contact their teacher. For questions about your child's exam schedule, please contact the school office.

NCDHHS Tips for the Holidays
Similar to Thanksgiving, the N.C. Department of Health & Human Services has released recommendations for having a safe and healthy holiday season. Local health officials at the Henderson County Department of Public Health (HCDPH) echo these safety tips, and share that while news of the COVID-19 vaccine is promising, there are realistically many months ahead before the general public is ready to be vaccinated.
A PDF flyer is also available in English and Spanish.
According to the HCDPH, a bulk of the COVID-19 transmissions they're now seeing in our community are coming from a friend, neighbor, coworker or family member outside the household in situations where people are dropping their guard. Therefore, we join the HCDPH in asking our HCPS Family to continue to practice the 3Ws – especially over the holiday gathering season – in order to buy time for the vaccine and allow us to ring in the New Year in health.
NOTE: the local health department is not testing asymptomatic individuals seeking a negative test in order to travel. The HCDPH recommends using the Find My Testing Place tool to find another testing opportunity in the community.

Student Meals Over Winter Break
In partnership with the Henderson County Education Foundation, our Child Nutrition Services will be providing student meals over the Winter Break. Any student enrolled in an HCPS school may pick up a week's worth of meals at Hendersonville Middle or Sugarloaf Elementary at the following scheduled pick-up events:
Monday, Dec. 28, 2020 from 3:30-5:30 p.m.
Monday, Jan. 4, 2021 from 3:30-5:30 p.m.
What's included?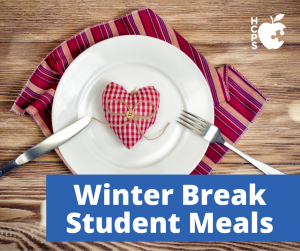 In the Dec. 28 pickup, students will receive a hot late lunch/early dinner meal for Dec. 28; breakfast and lunch meals for Dec. 29, Dec. 30, Dec. 31, and Jan. 1; and fresh vegetable produce provided by Flavor 1st.
In the Jan. 4 pickup, students will receive a hot late lunch/early dinner meal for Jan. 4; breakfast and lunch meals for Jan. 5 and Jan. 6; and breakfast for Jan. 7.
Our schools and Child Nutrition staff are especially thankful to the Henderson County Education Foundation for providing supplemental funding so students can have healthy meals while school is out of session.