R2L Weekly: August 6, 2020
"R2L Weekly" has Henderson County Public Schools' most recent "Return to Learn" updates in each issue, posted on Thursdays at 5 p.m. Individual updates will be linked on our Return to Learn webpage (HCPSNC.org/ReturnToLearn), sent to families through SwiftK12 email and phone reminders, and shared on social media. R2L Weekly content is current as of Wednesday at noon.

What to Expect on Campuses
All staff, students, and visitors accessing a Henderson County Public Schools building/facility will be screened at the building/facility main entrance. Any person who answers YES to any one of the screening questions listed and/or has a temperature above 100.4 will be denied entry into the building/facility.
Staff, students, and adult visitors on HCPS property will be required to wear a face covering unless the person (or family member, for a student) states that an exception applies, is eating, or is engaged in strenuous activity.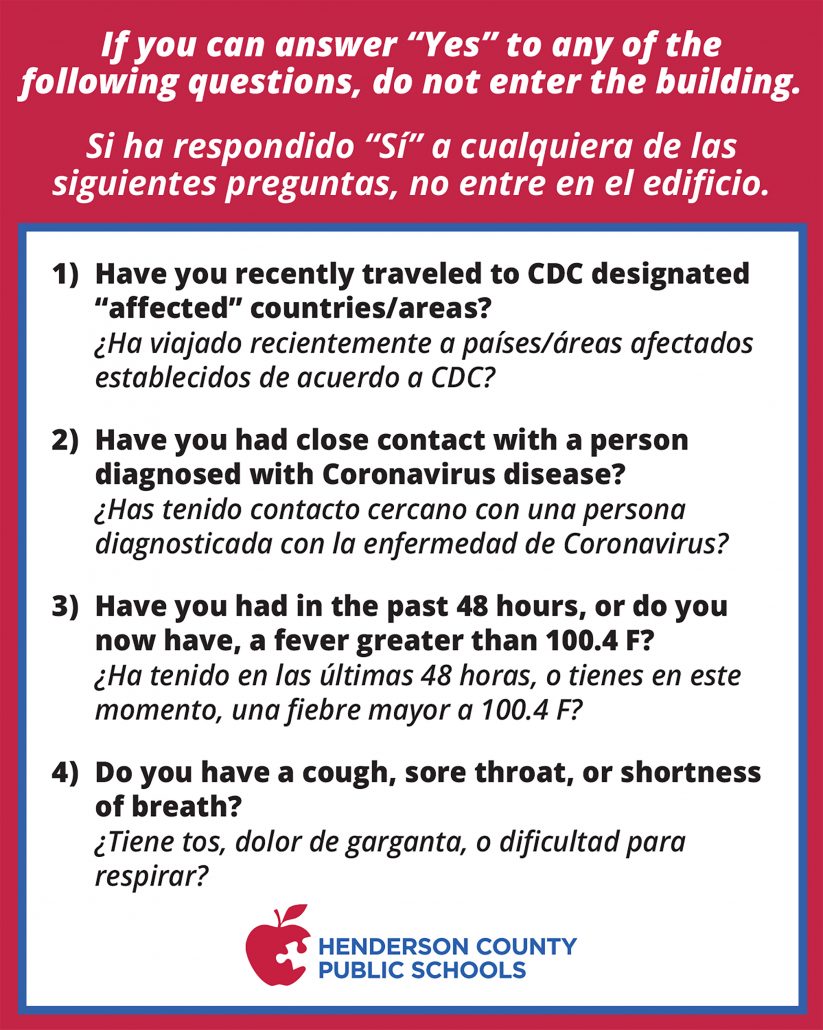 REMINDER:
Please contact your child's school directly to make any changes to your contact information on file, so you can receive the latest 2020-2021 school news from the district and your schools.

Parent & Family Resources
HCPS' Instructional Technology department has created enhanced resources for parents and guardians who are assisting children with remote learning at home. On the "Remote Learning Technology Support for Students and Families" webpage, families can find English and Spanish documents with tutorials on accessing the internet from HCPS Chromebooks, classroom applications, troubleshooting, student guidance for using Google Meet, and more.
The page also features a new video tutorial on using Google Classroom. Instructional Technology will add videos and updated instructional information in the "live" Google Docs as needed. These resources are also linked on the R2L: Student Learning page.
Engage RLO
Remember, families committing to a full semester of online learning through the entirely virtual "Engage RLO" model should register through the HCPS Enrollment Portal at enroll.HCPSNC.org.

Mental Health Info to Support Families
As we all attempt to do what's best for our students and families, the COVID pandemic and challenges about school make it especially important to know when your young person's responses to stress are normal and when to ask for help. The HCPS Office of Student Services has developed a resource to help families, and to offer guidance about where to find support.
Access the "Mental Health Information for Staff, Students and Families" document in English and Spanish for information on mental health, signs a young person may be facing a mental health challenge, tips on approaching the subject, and how to get help.
Stay tuned: a comprehensive mental health resource directory is currently being compiled by the HCPS Office of Student Services and Public Information Office, providing detailed listings of the local agencies that offer various support services to children, youth, and adults in our community.

Child Nutrition Services
Beginning the first day of school – August 17 – HCPS plans to operate Child Nutrition Services at 15 school sites and 9 "Meals On the Bus Routes" on school days during implementation of Plan C.
| | |
| --- | --- |
| Grab-and-go meals will be available from 11:30 a.m. to 1:30 p.m. at: | "Meals On the Bus" routes will originate from: |
| Apple Valley Middle/North Henderson High | Apple Valley Middle/North Henderson High |
| Atkinson Elementary | Clear Creek Elementary |
| Clear Creek Elementary | East Henderson High |
| Dana Elementary | Edneyville Elementary |
| East Henderson High | Etowah Elementary |
| Edneyville Elementary | Fletcher Elementary |
| Etowah Elementary | Hendersonville Middle |
| Fletcher Elementary | Mills River Elementary |
| Hendersonville Middle | Sugarloaf Elementary |
| Hillandale Elementary | |
| Glenn C. Marlow Elementary | |
| Mills River Elementary | |
| Rugby Middle | |
| Sugarloaf Elementary | |
| Upward Elementary | |
Specific Meals On the Bus route details and additional Child Nutrition information will be released next week.
REMINDER:
Families who believe they may qualify for Free & Reduced Meals should fill out the Meal Benefit Application form online, or pick up paper forms (and return them to) any school office.

Child Care & Adult Supervision Supports
Check out four more additions to the  up-to-date listing of child care services and adult supervision supports in the community HCPS and the Henderson County Education Foundation are compiling for working parents and guardians to reference.
Local Organization: True Ridge
In order to provide support and services to the LatinX community that has been disproportionately impacted by COVID-19 statewide, True Ridge – a local organization in Henderson County – was one of 5 organizations selected by the NC Department of Health and Human Services (NCDHHS) to respond to the COVID-19 pandemic and its unique influence on LatinX communities. True Ridge will be providing and promoting:
Personal Protective Equipment (PPE) kits including face coverings and hand sanitizers
Culturally and linguistically appropriate information about wearing face coverings, testing and testing sites, social distancing, engagement and responsiveness to contact tracing, quarantine and isolation
Spanish speaking Hotline (828)329-7169 with information on available resources and services (available 5 days a week from 8 a.m. to 5 p.m.)
The campaign "LA CURA COMIENZA CONTIGO" (The cure begins with you) sharing culturally and linguistically relevant information about COVID-19 on social media