R2L Weekly: August 27, 2020
"R2L Weekly" has Henderson County Public Schools' most recent "Return to Learn" updates in each issue, posted on Thursdays at 5 p.m. Individual updates will be linked on our Return to Learn webpage (HCPSNC.org/ReturnToLearn), sent to families through SwiftK12 email and phone reminders, and shared on social media. R2L Weekly content is current as of Wednesday at noon.

Remote Learning Success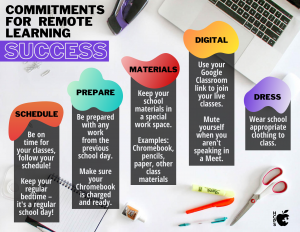 As we close out the second week of our remote learning, our counselors and school psychologists have a few suggestions that families may find helpful in creating a successful student learning environment in the home:
Set up student workspaces in areas where noise levels and distractions are low
Use visual schedules to map out the day's and week's tasks
When working on independent assignments, have students break up the more difficult tasks or lessons with preferred ones
Incorporate "brain breaks" like a daily snack time, stretching, or yoga
Keep school supplies and workspaces organized and ready
If your student needs a visual reminder of helpful tips to keep near their workstation, print out this graphic, or request a printed copy from your school!
Internet Map for HCPS Families
Remember to check out this map of business and organization locations within the community offering free Internet access for HCPS students! This Google Map online version will be updated as new locations are added; click on the location points for hours of service and/or WiFi password, if applicable. Families may request print copies of the "Internet Map for HCPS Families" from their schools.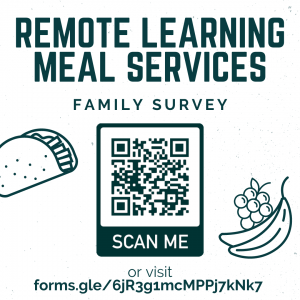 Child Nutrition Services
Please complete the "Family Identification for Remote Learning Meal Services" survey, to help HCPS develop a system of family identification that will expedite our meals services!
As we work to continue feeding students both breakfast and lunch during remote learning, federal regulations still require HCPS to identify students and account for each meal served through the USDA National School Lunch Program – which begins September 1.
Visit forms.gle/6jR3g1mcMPPj7kNk7 or scan the QR code to complete the survey.
Child Care Services
HCPS continues to offer its all-day Child Care Services at Fletcher, Hendersonville, Mills River, and Sugarloaf elementaries to the public as spaces are available. As of Wednesday, Aug. 26 there are 13 spaces available for 4th-5th grade students across all locations. Check the R2L: Auxiliary Services webpage at www.HCPSNC.org/RTL-auxiliary for specific location availabilities.
Cost: $125/week
Time of Service: 6:30 a.m.-6 p.m.
How to Register: Call 828-891-2363 for the required packets

PSPM Resuming
Beginning August 31, the district's PSPM after-school child care services at these 4 sites will resume for children ages 5-12 from 3-6 p.m. PSPM costs are $14 per day, per child.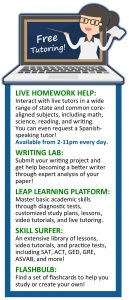 New Library Resource: HelpNow
HelpNow through Brainfuse can support students and parents doing online learning with live tutors available in English and Spanish, an online writing lab, access to practice tests, and lots more!
HelpNow is free to HCPS students and teachers with their StudentAccess account or library card number, and can be accessed from any device with an internet connection.
Visit the Henderson County Public Library website at www.HendersonCountyNC.gov/Library to get started.