R2L Weekly: August 20, 2020
"R2L Weekly" has Henderson County Public Schools' most recent "Return to Learn" updates in each issue, posted on Thursdays at 5 p.m. Individual updates will be linked on our Return to Learn webpage (HCPSNC.org/ReturnToLearn), sent to families through SwiftK12 email and phone reminders, and shared on social media. R2L Weekly content is current as of Wednesday at noon.

Resources & Supports
We're committed to the success of all our students as everyone begins this new year remotely together. If your child is experiencing difficulties with remote learning, or you have specific concerns, please contact your child's teacher or school principal. The following resources have also been developed to help families and students: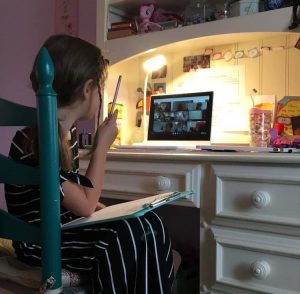 Instructional Technology Support: videos on using Chromebooks and Google Classroom, as well as tutorial documents, are available for Students and Families and Teachers.
Tech Support: The "Learn from Home Help Desk" has been expanded to offer a dedicated phone line for tech support for students and families in multiple languages. Call 828-435-3480 or email learnfromhome@hcpsnc.org.
In-Person Support: During Plan C, students may schedule on-campus tutoring and support by appointment. Contact your child's teacher or school counselor to request individual appointments.
ESL Family Center: For assistance in Spanish, families can contact the ESL Family Liaison at 828-388-2632.
Internet Access
Hotspots: Distribution & Additional Orders
On August 21, all hotspots in the HCPS Instructional Technology inventory will have been distributed to schools. Next week, schools will notify the families that have been assigned a hotspot when they are available for pick up from the school site.
Instructional Technology realizes that all hotspot requests are not able to be fulfilled at this time, but HCPS has ordered additional hotspots to attempt to fulfill the remaining requests. However, estimated delivery of these ordered hotspots is 3-4 weeks. The district is also seeking other avenues of funding to continue to increase the number of hotspots available for checkout.
The goal is to provide one hotspot to each home where there is adequate cellular coverage; however, there are unfortunately areas in our county where cellular coverage is not available to support a hotspot. It is HCPS' hope that we are able to meet the connectivity needs of as many of our families as possible during this period of remote learning.
Internet Map for HCPS Families
The map of business and organization locations within the community offering free Internet access for HCPS students has been updated to reflect these changes:
The Henderson County Public Library has expanded its hours of Internet availability for students. All library locations will now have Wi-Fi access in their parking lots from 8 a.m. to 9 p.m., Monday through Saturday.
New location: Upward Christian Fellowship.
This Google Map online version will be updated as new locations are added; click on the location points for hours of service and/or WiFi password, if applicable. Families may request print copies of the most recent PDF version of "Internet Map for HCPS Families" from their schools.

Child Care Services
HCPS is offering its Child Care Services at Fletcher, Hendersonville, Mills River, and Sugarloaf elementaries to the public as spaces are available. As of Thursday, Aug. 20, there are 8 spaces available at Hendersonville Elementary. Check the R2L: Auxiliary Services webpage for current child care space availabilities.
Cost: $125/week
Time of Service: 6:30 a.m.-6 p.m.
How to Register: Call 828-891-2363 for the required packets
Child Nutrition Services
Remember that on September. 1, HCPS' Child Nutrition Services will be provided under the USDA's National School Lunch Program, which will mean traditional meal costs will resume.
Although the transition from the USDA's "Summer" program to "School Lunch" program occurs each year, this school year's lunch prices reflect an initial cost reduction in "Reduced Price" meals. Thanks to a North Carolina grant, students who qualify for Free or Reduced Price meals will receive meals at no cost, until grant funds are exhausted statewide.*
2020-2021 School Lunch Prices

Free Meals
Reduced Price Meals
Paid Meals
$0.00
$0.00*

PreK-Grade 5: $2.50

Grades 6-12: $2.75

Mega Meals (6-12): $3.25
*Reduced Price breakfasts and lunches are covered by a state grant until funds are exhausted. If funds are exhausted prior to year end, prices will revert to $0.30 per reduced price Breakfast and $0.40 per reduced price Lunch.
An updated listing of MOB route schedules and links to menus are in the "Child Nutrition Services on Plan C" Google Document, which is also linked in the "Return to Learn: Auxiliary Services" webpage.
Meal Benefit Applications:
It's also extremely important for families to complete Meal Benefit Applications for the 2020-21 school year. Not only do these applications give eligible families Free & Reduced Meals, they are critical in securing funding for schools. Families may fill out the Meal Benefit Application form online, or pick up paper forms at (and return them to) any school office.

Child Care & Adult Supervision Supports
Check out two more additions to the  up-to-date listing of child care services and adult supervision supports in the community HCPS and the Henderson County Education Foundation are compiling for working parents and guardians to reference.