R2L Weekly: August 13, 2020
"R2L Weekly" has Henderson County Public Schools' most recent "Return to Learn" updates in each issue, posted on Thursdays at 5 p.m. Individual updates will be linked on our Return to Learn webpage (HCPSNC.org/ReturnToLearn), sent to families through SwiftK12 email and phone reminders, and shared on social media. R2L Weekly content is current as of Wednesday at noon.

Remote Learning Success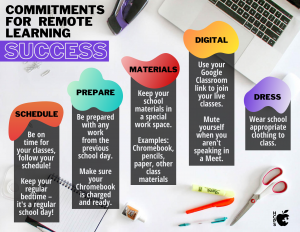 School starts Monday, August 17! Are you and your child(ren) wondering how to begin the year successfully while learning remotely? Consistent routines can help to create structure in a child's day, allowing them (and their families!) to know what to expect out of the school day.
HCPS has created a graphic in English and Spanish to help families build predictability and structure into the remote learning school day. This graphic can be downloaded, printed and posted near students' home-based work stations as a reminder of best practices for learning at home.
Internet Access
HCPS Hotspots
Families without internet service in the home can request an HCPS hotspot for their student's use during remote learning, by completing the form at www.HCPSNC.org/hotspots. The Instructional Technology team will determine if home locations have sufficient cellular coverage to these support hotspots.
Posted on the Instructional Technology Department's page of remote learning resources, the Hotspot Request Form is also available by clicking the "Tech Support for Learn From Home" button on the top of the district and individual schools' home pages.
If unable to complete the form online, families can contact a member of their school's administrative staff or the Technology Support Helpline number (828-435-3480) for assistance in completing the online form. The information needed in order to complete the form is the family's home address, the name(s) and school(s) of the student(s) in the home, and the parent/guardian name and telephone number in case they need to be contacted for additional information.
Internet Map for HCPS Families
In partnership with the Henderson County Education Foundation, HCPS is sharing a map of business and organization locations within the community offering free Internet access for HCPS students.
This Google Map online version will be updated as new locations are added; click on the location points for hours of service and/or WiFi password, if applicable.
A PDF version of the "Internet Map for HCPS Families" will be published by early next week. Families will be able to request print copies of the most recent PDF version from their schools.

Child Nutrition Services
Beginning August 17, HCPS will operate its Child Nutrition Services at 15 school sites and 9 "Meals On the Bus" routes on school days during implementation of Plan C. An updated listing of MOB route schedules and links to menus are in the "Child Nutrition Services on Plan C" Google Document, which is also linked in the "Return to Learn: Auxiliary Services" webpage.
As they are every year, the meals offered to students over the summer months were provided at no cost to children ages 2-18 under the USDA's Summer Food Service Program (SFSP) – which ends August 31. Beginning Sept. 1, HCPS' Child Nutrition Services will join national public school districts in operating under the USDA's National School Lunch Program, which will include traditional associated costs for meals.
Although this transition from the USDA's "Summer" program to "School Lunch" program occurs each year, this school year's lunch prices reflect an initial cost reduction in "Reduced Price" meals.  Thanks to a North Carolina grant, students who qualify for Free or Reduced Price meals will receive meals at no cost, until grant funds are exhausted statewide.*
2020-2021 School Lunch Prices

Free Meals
Reduced Price Meals
Paid Meals
$0.00
$0.00*

PreK-Grade 5: $2.50

Grades 6-12: $2.75

Mega Meals (6-12): $3.25
*Reduced Price breakfasts and lunches are covered by a state grant until funds are exhausted. If funds are exhausted prior to year end, prices will revert to $0.30 per reduced price Breakfast and $0.40 per reduced price Lunch.
Especially while operating under the fully remote Plan C, HCPS Child Nutrition Services highly recommends families use the online payment system, K12PaymentCenter, to pay for school meals. To create an K12PaymentCenter account for a student, families will need their child's Student Number – which they can access by calling their child's school.
To view monthly Remote Feeding Menus, families can visit the HCPS Child Nutrition menu site, filter to a school site serving meals using the grade level dropdown and school name dropdown menus, then select "Remote Feeding Menu" (see screenshot below).

REMINDER:
Families who believe they may qualify for Free & Reduced Meals should fill out the Meal Benefit Application form online, or pick up paper forms (and return them to) any school office.

Child Care & Adult Supervision Supports
In partnership with NC's Child Care Resource and Referral system, the N.C. Department of Health and Human Services has set up a child care hotline to support working parents. Representatives are available to assist weekdays between 8 a.m. and 5 p.m. EST. Families can call 1-888-600-1685 to get connected to licensed child care in their communities that have vacancies. Check out this NCDHHS flyer in English and Spanish.
Check out four more additions to the  up-to-date listing of child care services and adult supervision supports in the community HCPS and the Henderson County Education Foundation are compiling for working parents and guardians to reference.
📞 ICYMI: Families and caregivers in need of child care for children up to age 12 can call the child care hotline at 1-888-600-1685 to be connected directly to care options in their communities that meet their families' needs.

Read more: https://t.co/U0uxaSg97V

— NCDHHS (@ncdhhs) August 12, 2020