R2L Weekly: April 15, 2021
"R2L Weekly" has Henderson County Public Schools' most recent "Return to Learn" updates in each issue, posted on Thursdays at 5 p.m. Individual updates will be linked on our Return to Learn webpage (HCPSNC.org/ReturnToLearn), sent to families through SwiftK12 email and phone reminders, and shared on social media. R2L Weekly content is current as of Wednesday at noon.

Save the Date: Summer School 2021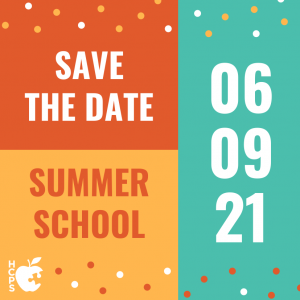 Families have been wondering, and yes – Summer School is going to be more robust this year! Though we're still finalizing the details with the NCDPI and local community partners, we wanted to share dates as soon as possible, since families are beginning to plan their summers.
Signed into law by Gov. Roy Cooper on April 9, 2021, N.C. House Bill 82 (Summer Learning Choice for NC Families) established a 6-week, in-person summer school for K-12 students who have fallen behind during the COVID-19 pandemic.
Summer school for HCPS students will begin Wednesday, June 9, and end on Thursday, July 22, with a week-long break built in around the July 4th holiday.
Schools will communicate the schedule, programming, and additional details to families of students recommended for Summer School 2021 later in the spring.

Reminder of Resources
We're getting back to elements of "life before COVID," but many children, youth and adults are still feeling the social and emotional impacts of the pandemic. We want to remind our HCPS Family of the resources that exist locally to support you, your student, or someone you know in dealing with anxiety, depression, thoughts of harm, and other trauma. Compiled with assistance from the Henderson County Department of Public Health, our "Mental Health & Crisis Resources" document includes detailed listings of the local agencies that offer various support services to children, youth, and adults in our community.
View the document in English or Spanish here, or find links to this resource on the R2L: Emotional & Mental Wellness webpage and the main "Parents" page of the HCPS website, at www.HCPSNC.org/parents under "Health & Wellness Information."

Extra Credit Grant Program Extended
We are partnering with our local health and community partners to share an important update about the 2020 NC Extra Credit Grant from the N.C. Department of Revenue.
Most North Carolina families with children received an automatic $335 coronavirus relief payment last fall to help with virtual schooling and childcare costs. Eligible families who did not receive the $335 check have another chance to apply through May 31, 2021.
The $335 payments are for individuals with a dependent child who was 16 or younger at the end of 2019. If you did not file a 2019 state return because your gross income for 2019 did not exceed the state's filing requirements for your filing status (generally $10,000 per year if you are single and $20,000 per year if you are married), you may still be eligible for the $335 payment if you apply by May 31. If you have already received the $335 grant, you are not eligible to re-apply.
NCDHHS is encouraging families who have not done so already to take action before May 31 to receive a payment. Check out the video below for details on eligibility and a walk-through of the short application process. Go to www.ncdor.gov/extracredit for details and to apply.

Cluster Discrepancy in NCDHHS Report Resolved
On Monday, March 29, we sent an email to all parent/guardian contacts explaining a discrepancy in the March 26 "COVID-19 Ongoing Clusters in Child Care and School Settings" NCDHHS report. In the report, a cluster was incorrectly attributed to "Mills River Elementary" and categorized in our K-12 School setting, when it should have been attributed to the HeadStart child care operation and categorized in the Child Care setting.
We're happy to report that this has been corrected and was listed as in the "Mills River Head Start" child care setting in the DHHS report issued April 9. As of the most recent (April 13) report, it is now listed as a "Cluster Considered Over Since Last Report."