R2L Weekly: April 1, 2021
"R2L Weekly" has Henderson County Public Schools' most recent "Return to Learn" updates in each issue, posted on Thursdays at 5 p.m. Individual updates will be linked on our Return to Learn webpage (HCPSNC.org/ReturnToLearn), sent to families through SwiftK12 email and phone reminders, and shared on social media. R2L Weekly content is current as of Wednesday at noon.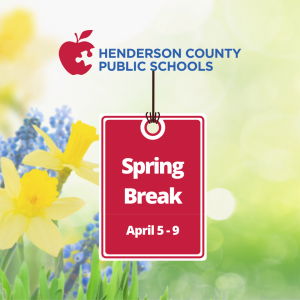 Calendar Reminders: Spring Break

– "R2L Weekly": Since school is out of session April 5-9 , 2021 for Spring Break, there will not be an "R2L Weekly" issued on April 8.

– COVID-19 District Dashboard: As during the Winter Break period, HCPS will suspend the COVID-19 District Dashboard updates over Spring Break, while school is out of session. Dashboard reporting of school-affected cases will resume on the next business day for staff, Monday, April 12, 2021.

Celebrating Spring Break Safely
We're getting closer to "normal," but we're not out of the woods yet! We all want to return from a relaxing Spring Break and finish out the school year in-person, and it will take all of the HCPS Family's cooperation to keep our school communities healthy and safe.
We are fortunate that the majority of our staff are vaccinated, as are an increasing number of individuals across the country and globe. But even those who are fully vaccinated are still required by the N.C. Department of Health & Human Services to wear a face covering when out in public, and the CDC continues to recommend wearing face coverings, avoiding large gatherings, and physically distancing from others – regardless of vaccination status.
Continuing these best practices over Spring Break will help us stop the spread in our own community and in others, so we ask our HCPS Family to review the NCDHHS guidelines for enjoying a safer spring break below. A PDF flyer is also available in English and Spanish.
Discontinuing Temperature Screenings
Upon our return from Spring Break on April 12, temperature screenings at school locations will be discontinued for students and staff based on updated guidance from the NCDHHS in its StrongSchoolsNC Public Health Toolkit. As of the March 24, 2021 guidance update, the NCDHHS no longer recommends daily COVID-19 symptom screening for all students at school entry.
All visitors to school campuses and facilities will still be required to have their temperature screened before entering school buildings.

Addressing End-of-Year Questions
Upon examining existing state guidance for end-of-year activities, district leaders have established guidelines for schools regarding traditional year-end events. HCPS is adhering to the Governor's Executive Order 204 and NCDHHS guidance updated March 26 as in-person events are planned for students and families, to prevent the spread of COVID-19 in our school communities.
Controlled, school site activities (like small, school-based recognition ceremonies and celebrations) will be permitted and encouraged, as long as they adhere to the current state restrictions.
High School Graduations are scheduled at each high school for Friday, May 28, as in-person events. Additional details about specific events will be communicated to staff and families as they are confirmed.
Social events where social distancing guidance may not be reasonably applied will not be permitted. This includes proms and other dances, since NCDHHS guidance specifically calls for closing dance floors and not allowing dancing.
As we have been doing throughout the pandemic, HCPS will continue to monitor the health data in our county as we explore all options for our end-of-year celebrations. As specific events are planned in accordance with state guidelines, schools will communicate details to families.

Kindergarten Readiness & Online Registration
If you have a newly registered kindergartener ready to start school in August, you should have received our first video in the 3-part "Kindergarteners Can!" series on Monday – with the next one dropping in your email inbox April 5!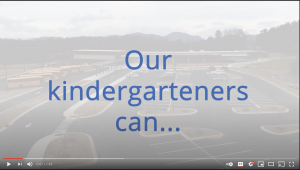 Kindergarten registration is still open online, and we're premiering the "Kindergarteners Can!" series to give newly registered kinders (and their families) a fun introduction to what kindergarten will look like – in the morning, midday, and afternoon – at HCPS! Newly registered kindergarten families are getting first looks at these videos on Mondays, before we share to our HCPS Facebook and Twitter channels (@HCPSNC) on the following Fridays.
Even if you don't have a kindergartener at home, check out the first video in the series posting on socials tomorrow, and share it with friends and family members who do have children ready to start kindergarten! And be sure to remind them that they can join the HCPS Family by registering online at kreg.HCPSNC.org!