R2L Weekly: July 23, 2020
"R2L Weekly" has Henderson County Public Schools' most recent "Return to Learn" updates in each issue, posted on Thursdays at 5 p.m. Individual updates will be linked on our Return to Learn webpage (HCPSNC.org/ReturnToLearn), sent to families through SwiftK12 email and phone reminders, and shared on social media. R2L Weekly content is current as of Wednesday at noon.

Plan C Remote Learning
On Monday, Henderson County Public Schools announced its plan to "Return to Learn" Plan C – a fully remote learning model – for the first 6 weeks of the 2020-2021 school year. Will this look different from remote learning in the Spring?
Absolutely.
Unlike the emergency remote learning during the school closure, the robust remote learning through Plan C will consist of live, virtual whole class sessions teaching new content with grades and assessments, instead of primarily reviewing previously learned material.
Remote learning will occur from 8 a.m. – 12 p.m., with the afternoons designated for individual or small-group support (for academics, counseling, college and career planning, Exceptional Children, Academically or Intellectually Gifted, English Language Learners, etc.).
Daily attendance will be taken and student grading expectations will look similar to in-person expectations.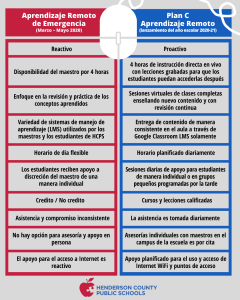 How will attendance work?
Attendance will be recorded based on students' physical attendance of live virtual class sessions, as well as completion of coursework and assignments. Students unable to attend live class sessions will access the recorded session in Google Classroom and demonstrate their attendance and attention through completion of their assignments and coursework within the timeframes expected.
Students and families will be able to schedule individual on-campus teacher feedback or tutoring sessions by appointment. Also new this year, the district's Instructional Technology department is creating enhanced resources for parents and guardians who are assisting children with remote learning at home. Be on the lookout for instructional videos and more!
With the goal and expectation to resume face-to-face learning as soon as is safely possible, the current plan will be continuously evaluated and refined based on public health in our community.
District leaders, school administrators, and the ReEntry Task Force continue to collaborate to bring families details on classroom schedules, remote learning expectations and supports, Internet access resources, child care availability, child nutrition schedules, community mental health resources, and answers to other important questions raised by families as they prepare for Plan C. As such information is finalized, it will be communicated to families through future "R2L Weekly" updates and the district's official communication channels.
School Supplies
Families do not need to plan on buying the standard amount of school supplies as during a traditional school year, since 1) students will begin this year learning remotely and 2) the sharing of classroom supplies and resources will be eliminated once in-person learning resumes. Individual schools' modified school supply lists focus on items needed by the individual student – not to be shared with or handled by other classmates – and parents won't be asked to purchase supplies "for the classroom."
Should community partners wish to help with the donation of supplies, the district has identified a "Top 10" list of school supplies that can be universally used across grade levels when in-person learning resumes:
This list is being shared with businesses and organizations, so they may adjust their typical "Back to School" drives and events to support the supply needs of students this year.
Communication about school-specific items will be sent to families from individual schools as modified lists are approved.

Child Nutrition Services
Meal Benefit Applications
The Meal Benefit Application period for the 2020-21 school year is currently active. Families who believe they may qualify for Free & Reduced Meals may fill out the form online, or may pick up paper forms (and return them to) any school office. Not only are these applications critical in providing HCPS with data to best serve the nutrition needs of our students, they may give eligible families access to additional resources like the "P-EBT card" issued to families in the spring as part of the state-approved Pandemic Electronic Benefit Transfer (P-EBT) program.
Student Meals During Plan C
The district is committed to providing reliable student meals during implementation of the fully remote learning model. Similar to the Spring 2020 school closure period, HCPS will provide grab-and-go pickup meals at specific school sites and at scheduled "Meals On the Bus" stops. Schedules for grab-and-go sites and Meals On the Bus routes will be released in early August.
Child Care Services
Understanding that the availability of child care is one of the largest concerns among our families, HCPS and the Henderson County Education Foundation are currently exploring options to provide this service for working parents to utilize during the remote learning period. Options for this service will be announced as they are made available.