Henderson County Public Schools (HCPS) is seeking advertising bids for the "District Champ for HCPS Athletics" Presenting Sponsor Package, with tier exclusivity across the district's 4 high school athletic streaming channels on the NFHS Network for the remainder of the Fall 2020 athletic season.
Valued at a minimum of $5,000, the "District Champ for HCPS Fall Athletics" package will be awarded to the highest bidder following a competitive bidding process.
With spectator attendance of Fall athletics has been limited due to the N.C. High School Athletic Association's COVID-19 requirements, HCPS added livestream capabilities to East Henderson, Hendersonville, North Henderson, and West Henderson high school athletic departments using automated Pixellot cameras. All athletic contests are live-streamed to school-specific channels on the third-party NFHS Network. With a subscription to the NFHS Network, fans access all live sporting coverage on the site, follow favorite local high schools, and sync upcoming games to digital calendars.
The "District Champ for HCPS Fall Athletics" package includes advertisements run during every athletic contest on all 4 high school networks. With each high school hosting approximately 45 home contests as of January 2021 (men/women's basketball, men/women's soccer, football, wrestling, track), the Presenting Sponsor can expect their ads to run in approximately 180 live streamed games.
Package Details:
– 30-second Mid-Roll video commercial during every streamed game
– 1st position of "Presenting Sponsor" graphic Carousel Ad* on all 4 high school network pages
– Watermark* graphic on all games across all 4 high school channels
– Exclusivity: 1 per district
*see examples of Carousel and Watermark ads at bottom of page
HCPS will award the "District Champ" advertising package to the highest bidder following a private competitive bidding process from Dec. 15, 2020 – Jan. 6, 2021. Interested parties should submit a bid no less than $5,000 to HCPS Public Information Officer Molly McGowan Gorsuch through this Google Form.
The Public Information Officer shall approve the distribution and display of advertising materials, pursuant to Board Policy 5240: Advertising in the Schools. Per board policy, advertising materials that (1) are vulgar, indecent, or obscene; (2) contain libelous statements, personal attacks, or abusive language such as language defaming a person's character, race, religion, ethnic origin, gender, family status, or disability; (3) cause or clearly threaten to cause a material and substantial disruption of a school activity; (4) encourage the commission of unlawful acts or the violation of lawful school regulations; (5) are inappropriate considering the age of the students in the school; (6) include information that is inaccurate, misleading, or false; or (7) advertise any product or service not permitted to minors by law are prohibited and will not be accepted for bid.
The winning bid will be announced Thursday, Jan. 7, 2021. In the event multiple businesses submit a matching highest bid, McGowan Gorsuch will contact all parties to determine new competing amounts for the highest bid.
The advertiser's media – 30-second video, carousel graphic (928p x 300p), PNG logo for watermark – will be due to McGowan Gorsuch by end-of-day Friday, Jan. 8, for inclusion in the streamed athletics contests beginning Monday, Jan. 11.
Carousel Images on School Pages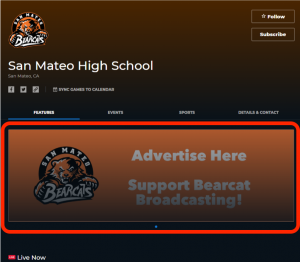 Corner Watermarks