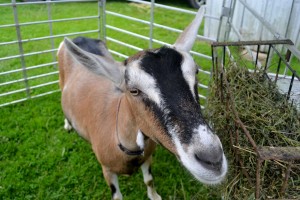 Our One-Room Schoolhouse is open and ready to share its history!
Field Trip Updates:
We would like to announce some updates to field trips at the Johnson Farm. You and your entire grade level are now invited to come to the farm for all-day field trips. These day trips will allow the children to enjoy a four activity rotation schedule which includes hands-on learning at the Interpretive Center, our one-room schoolhouse, tours of the farm house, hands-on activities and tours of the new weaving facility, and wagon rides with animal meet-and-greet time. Also, you should feel free to utilize the play stations set up in our barn loft museum! Field trips at the farm are designed to entertain and teach children about farm life. All students will benefit from craft, art and nature education.
The following activities are offered by grade level. However, if you feel your particular group of students would be better suited for an activity schedule not assigned to their grade, we will be happy to accomodate your choice of schedule for that group. If you wish to create your own activity or other plan, such as for a holiday or other special event, we will be glad to assist in that as well. Our goal is to provide your group with an experience that will be educational yet relaxed. The farm belongs to you and we hope to be a part of the ongoing goal to 'nurture the potential of all children'.
Kindergarten
*Intro to Johnson Farm history
*Storytelling  – English language – RL.K.1, RL.K.3, RL.K.10
*How to Spin a Rabbit – K.CC.2, K.CC.3, CX.
*Explore Map of the Farm – K.G1.1
*Meet and greet animals – K.G. 2.2
*Wagon Ride – K.G.1.3, K.P.1.2
First Grade
*Intro to Johnson Farm history – 3.02, 4.04, 1.H.1, 1.G.2
*Make a Quilt – V.3, CX.2, V.3
*Weaving the Rainbow – 1.E.1.1, 1.E.1.3, RL.1.1, RL.1.4
*Meet and greet animals – 3.20
*Wagon Ride – 5.07, 1.G.1.2
Second Grade
*Intro to Johnson Farm history – 2.H.1
*Timeline of Henderson County History and Johnson Farm History – 2.H.1
*The Mitten – 2.G.2.1, CR.1, CX.2, RL.2.1, RL.2.3
*Pioneer School – 2.H.1.3
*Meet and greet animals
Third Grade
*Intro to Johnson Farm history – 3.H.2.1, 3.G.1.4, 3.E.2.1
*Make butter – 3.P.2.3
*The Goat in the Rug – V.1, V.2, 3.G.1.3, RL.3.1, RL.3.3, RL.3.7
*Meet and greet animals
*Wagon Ride – 3.G.1.2
Fourth Grade
*Johnson Farm History and Henderson County History – 4.H.1, 4.h.1.1, 4.G.1.3
*A New Coat for Anna – V.3, V.1, V.3, CX.2, RL.4.2, RL.4.3
*Meet and greet animals – 4.H.1.3
*Wagon ride – 4.G.1.4
 Fifth Grade
*Historical Craft for Mexico, USA, Canada: Social Studies Goal 3: Arts Education Goal
1,2,3
*Weaving:(Thursdays) Arts Education Goal 5,8
*Meet and Greet Animals
*Wagon Ride
The Heritage Weavers
Heritage Weavers & Fiber Artists welcome K-4th graders from the Henderson County School system for their field trips.  The weavers look forward to sharing their knowledge of the heritage fiber crafts.  Field trip programs are based on a grade appropriate fiber arts story book from HWFA's library.  Activities for the field trips are chosen from the story book with demonstrations and hands on activities such as weaving, dyeing and spinning, many times using fiber from the farms sheep. 
Johnson Farm Scholarship
One important community contribution, dedicated to the future of education and agriculture, is the Johnson Farm Scholarship. Begun in 2008, this scholarship is awarded to a high school senior with college aspirations of education, agriculture or natural resources/environmental studies. It is in memory of Vernon and Leander Johnson, the generous men who gave their farm to the schools and who took a lifelong interest in young people and their education.
As always, please feel free to email us or call us at (828) 891-6585.