Christmas Fun at the Farm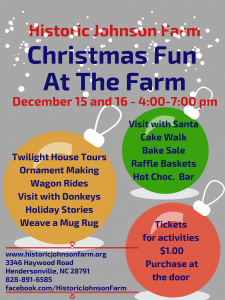 The 2017 Christmas Fun at the Farm is a can't miss annual event celebrating an old fashion Christmas in one of the most beautiful small farms in Henderson County.  Come to the Farm on December 15th and 16th to enjoy a relaxed, nostalgic family fun. With historic and festive farm house tours, free cookies and cider, crafts, wagon rides, and a jolly old Saint Nick, this event is perfect for visitors of all ages. We hope you'll join us!
When: December 15th and 16th
Time: 4 pm- 7 pm
Where: Historic Johnson Farm, 3346 Haywood Road, Hendersonville, NC
Cost: All new pay-as-you-go! Buy tickets for $1 each and spend those tickets on any and all activities you choose.Questions? Call 828-891-6585 for more.
Visit our Facebook page for more information.
"Christmas at the Farm 2016"
Last year's open house was a great success! Thanks to all of our sponsors (see full list below), volunteers, and performers. We also appreciate all of you who attended the event. We hope to see you again next year!
Festival Sponsors:
Carolina Village
Henderson Oil Company Inc
Tony and Becky Varnadore
In-Kind Donors:
Heritage Weavers and Fiber Artists
Lyda Farms
Harris Teeter
Tasha Summey
Dreamweaver
Southern Chicks
Fresh Market
Belks
Honey Suckle Hollow
Piggy's and Harry's
Alikat Deli
Ace Hardware (Mills River)
Weichert Realtors
Carolyn Serrano
Swanson and Sons
Scentsy -Stephanie Cathey
Bunny Wilson
A Day in the Country
If you are interested in becoming a festival sponsor or raffle donor for 2017  please call farm director Joy Owens at 828-891-6585.