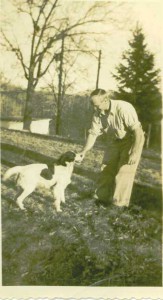 This page is designed to bring you back to the days when the farm was still visited each summer by city folk looking to spend their vacation on a working farm.  With these narratives you can reminisce through the eyes of those who were there back in the 1800-1900's and share their experiences 'first-hand'.  It was a very special and unique time and if you close your eyes you can still hear the sound of hooves tapping the ground as they pull a wagon or plow the field.  Enjoy the stories but take the time to visit the Farm and feel for yourself what it's like to travel back in time at the
Historic Johnson Farm!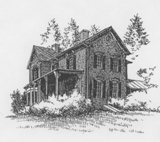 I eagerly returned to Hendersonville upon my release from the Army. Yet, like many returning vets, I somehow found it difficult to fit back into my pre-military life. People had moved on, changed, but so had I. The question became, "How do I begin again"?
One thing I found unchanged was the Johnson farm and the two men living there. Before I left, Vernon had been my special friend. I had known him most of my life and had loved the hand-crafted toys he made for local children. He honored me by often sharing his workroom with me. Now, you have to understand that work room is a polite euphemism for the small dungeon-like room under his brick farmhouse. There was enough room in there for Vernon, a small workbench and a few old hand-operated tools. To share the room, I would lounge in the doorway and talk with Vernon as he would meticulously craft his wooden magic.
His favorite wood was walnut; he never wasted a piece if it could be saved to make something useful. If he wasn't making a toy he would be building one of his signature small tables which he would often give to young folks as a wedding gift. To own one of these tables is a treat for those who knew Vernon. Each was made from local walnut and the legs turned on a simple foot operated lathe in the cramped workroom. He made the same table many times and once gave me the template, made from an old cigarette carton, for the signature leg he used on the tables. Though this design is nothing spectacular, the sentimental value that this was Vernon's own design makes the template valuable to me.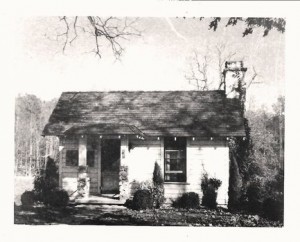 Little did I realize that those hours spent idly watching Vernon from the doorway of his hideaway would help re-integrate me into my renewed life in Hendersonville. Years later, when I sadly attended Vernon's funeral, I found myself thinking how appropriate it was that his casket was made of walnut. He had always maintained that walnut was a "gift" and must be used, as with any wood, respectfully.
I remember one especially lovely Sunday afternoon, arriving at the Johnson farm and seeing Vernon and Leander quietly rocking on the front porch of the brick farmhouse. I climbed the steps and lounged on the porch railing while the two continued chatting, rocking and watching the bird feeder in the yard.
Vernon kept a slingshot on a small table near his chair and when he would spy a chipmunk or squirrel he would launch a small stone toward them. I wondered, why he always missed them, because he usually had a deadly aim with that slingshot. Why, I had often seen him clip walnuts from a tree.
Then it became clear to me, his intent was not to hit the pesky critters, just chase them away from the feeder so the birds would have free reign. That was so typical of Vernon. In fact they had a small sign in a bed of begonias near the old well which read "Chipmunk Crossing" so it was clear he had a fondness of all small harmless creatures.
As a child, I viewed the Christmas season as a magical time. Anticipation was a way of being and I always remember our annual trip to visit the Johnson farm as being nearly as highly anticipated as the season-ending visit from Santa Claus. As the longed for Saturday visit slowly approached, my brother and I must have driven my parents wild with questions of "how much longer?"
As that very special Saturday finally dawned, it was nearly impossible for my parents to tame me and my little brother long enough for us to dress and eat our suddenly tasteless breakfast of toast and cold cereal. For once there was no arguing in the back seat as the old family car wound its way along Haywood Road toward the farm.
Though our hearts were fluttering with excitement, we were unusually subdued as at last we stood on the porch of the red brick farmhouse. As the door swung open, we were overwhelmed by our first glimpse of the toy-filled room. I think that Vernon and Leander were as excited by our annual visits as we were. They smiled and giggled under their old faded elf caps as they ushered us into the amazing room. Each year they would explain their headgear as just old night caps to our parents, but my brother and I knew, just knew, that they were truly Santa's elves here in Hendersonville.
We were overwhelmed by the variety and number of toys scattered throughout the room and piled in the old, unused, fireplace. Some were antiques we were sometimes sternly admonished not to touch, but others were nearly new or sturdy hand-made wooden toys crafted by Vernon and thus deemed playable. Vernon and Leander sat on the floor and played with us for what seemed like hours and never told us to be quiet. We would hear Vernon telling our folks to, "never mind, when children make noise, it's their way of praying". It was the one delightful time and place we were fully encouraged to be children.
Sadly, as all wonderful childhood excesses, it would come to an end and we would be ushered back onto the porch and urged to trudge to the car. Usually we would be clutching some small toy as a reminder of our visit to the Johnson farm. Unknown to us at the time, it was not the toy we received that was the most valuable thing, but the lasting memories of the two wonderful men and their warm hospitality which has remained with me to this day.
From the memories of Patricia Dockery
In the gathering dusk, I was bouncing in the back of my father's car with my mouth watering at the wonderful smells coming from the casserole my mother was holding in her lap.  Dad and Grandpa were in the front laughing over something when the car turned to begin the long haul up the winding gravel driveway to the Johnson Farm.  It was our usual winter Saturday evening game night and I couldn't wait to get there.
Upon entering Aunt Sallie's kitchen more enticing smells engulfed me.  Soon we were sitting around the extra large dining room table ready to dig in.  I was always amazed at the fact that none of Aunt Sallie's dishes matched.  Mommy told me that was because the Johnson's summer boarders often helped with kitchen cleanup and sometimes dropped dishes meaning that Vernon and Leander were sent into town to get new ones.  They claimed they never could find matching dishes.
Soon the meal was finished and the men wondered to the front porch to smoke while the women shooed me into the front parlor to play with the wooden toys made by Leander.  After the dishes were put away the adults came into the front parlor to join me.  In these dark winter days the room served a different purpose than just an extra dining room.  Because it was colder upstairs, the "boys" always carried Aunt Sallie's bed downstairs so she could sleep in warmth.
The adults began their evening by playing cards while I fought a brave battle with drooping eyelids.  I continued playing with those wonderful toys.  Finally, unable to resist any longer, I crawled into the narrow bed and squeezed my eyes shut.  But, as always on these card evenings, I was too aware of the antlered deer staring at me from the wall above the fireplace.  I imagined him just waiting for my gaze to wonder so he could lower his antlers and attack.  Finally sleep won out and I drifted into dream world where the deer became my friend instead of staring madly at me from the wall.