8th Grade Beta Club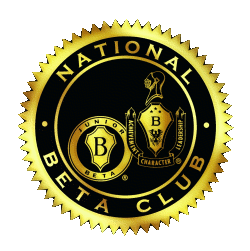 The Eight Grade Beta Club is a service organization that helps the school and community through volunteering of personal time and talents.
Listen to announcements for meeting dates and times.
Where: Mrs. Jackson's room, Room 138
The National Junior Beta Club is open to students who have maintained a high grade point average and have demonstrated exemplary citizenship. As members, we promote and encourage this good citizenship by helping ourselves and others.
Projects
Learning about teacher's colleges
After-school tutoring
Decorating a tree for Johnson Farm
Valentines for teachers and staff
Pennies for Patients
6th and 7th grade Beta Club induction
Autism Awareness – Puzzle pins
Random Acts of Kindness Month
Rising 6th Grade Orientation