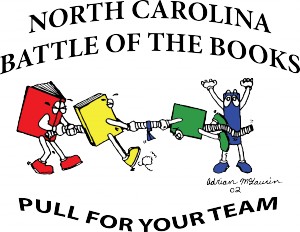 The purpose of the NC Battle of the Books Competition is to encourage the reading of quality literature by a variety of young adult authors. The Battle of the Books team is open to all students in 6th, 7th and 8th grade.
The team meets on Friday afternoons from 3:15 until 4:00. The team will meet on the following dates:
September 8, 15, 22
October 6, 13
November 3, 17
December 1, 8, 15
(more dates to come!)
North Carolina School Library Media Association
2017-2018 Middle School Battle of the Books List
Home of the Brave by Katherine Applegate
The Girl Who Drank the Moon by Kelly Barnhill
The Iron Trial by Holly Black and Cassandra Clare
Tangerine by Edward Bloor
Book Scavenger by Jennifer Chambliss Bertman
The Roar by Emma Clayton
Airman by Eoin Colfer
The Maze Runner by James Dashner
Mockingbird by Kathryn Erskine
Michael Vey: The Prisoner of Cell 25 Richard Paul Evans
The House of the Scorpion by Nancy Farmer
90 Miles to Havana by Enrique Flores-Galbis
The Other Half of My Heart by Sundee Tucker Frazier
Prisoner B-3087 by Alan Gratz
Fatal Fever by Gail Jarrow
Good Night, Mr. Tom by Michelle Magorian
A Single Shard by Linda Sue Park
Beneath My Mother's Feet byAmjed Qamar
The Hired Girl by Laura Amy Schlitz
Bluefish by Pat Schmatz
The Alchemyst by Michael Scott
Salt to the Sea by Ruta Sepetys
Outcasts United** by Warren St. John
Chasing Lincoln's Killer by James L. Swanson
One Crazy Summer by Rita Williams-Garcia
The Watch That Ends the Night by Allan Wolf
Wolf Hollow by Lauren Wolk
**Full title: Outcasts United: The Story of a Refugee Soccer Team That Changed a Town. Do not confuse with
adult editions of this book (Outcasts United: a Refugee Team, an American Town or Outcasts United: an American Town, a Refugee Team, and One Woman's Quest to Make a Difference).