On Monday, Fletcher Elementary 1st-graders learned that mayors are allowed lunch breaks and vacations, but when they're in town they're never really off the clock.
As part of the North Carolina social studies standards, 1st-graders at Fletcher have been learning about authority figures, said Principal Jennifer Shelton.
"They've been talking about who the authority figures are at home, at school, and in the community," she said.
To illustrate the latter, Fletcher Mayor Rod Whiteside visited 1st grade classrooms Monday to talk about his responsibilities in the Town of Fletcher, and to answer questions students had prepared – as well as a few off-the-cuff.
The students were disappointed to learn that Whiteside does not, in fact, drive a limo. But they were relieved that he gets a break to eat at his traditional, non-elected job with Ingles Corporate.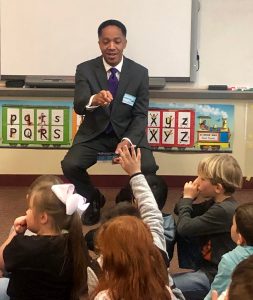 "I consider (being) mayor a full-time job, but I do have another job," Whiteside told the students. "And yes, I get a lunch break," he said, chuckling.
Students also asked Whiteside whether he hires people and makes laws. He explained that the Town of Fletcher has a council-manager form of government, in which the Town Manager – hired by the Mayor and Town Council – handles the day-to-day operations, including hiring personnel.
Regarding laws, Whiteside said that along with the rest of Town Council, "We can pass ordinances and provisions that the residents of Fletcher have to abide by."
Another student asked, "What are your major responsibilities?"
Whiteside said taking care of town business with Town Council members at regular council meetings – like the one scheduled that evening – was one of his main responsibilities. And Whiteside said he considered his other main responsibility to be listening to and communicating with Fletcher residents.
"Making sure I'm out there, I'm listening, I'm in touch," Whiteside said.
– By Molly McGowan Gorsuch
Public Information Officer