Last week, teachers took over Fletcher Elementary's art room, drawing mice and monsters on craft paper, and cutting out paper characters for puppet shows.
Internationally renowned puppeteer Hobey Ford flitted from table to table, making sure the teachers weren't making the classic mistake of drawing their characters too small. Ford, a Kennedy Center Partner in Education teaching artist, was teaching a master class of sorts to the Fletcher teachers, so they could incorporate shadow puppetry into their classrooms and teaching methods.
"I would like your puppet to be bigger than your hand," Ford said.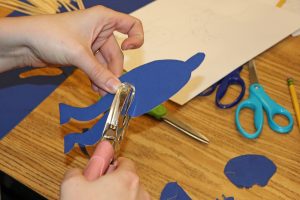 He instructed the teachers to put their hands on a piece of colored paper to measure size, and explained that they'll want to ask the same of their students once they take what they'd learned back to their classrooms.
Thanks to a North Carolina Arts Council grant secured by the Fletcher Arts and Heritage Association, Ford spent a week teaching workshops to both teachers and students at Fletcher Elementary, and treated the school to a puppet performance.
In his teacher workshop, he demonstrated how simply a shadow puppet stage could be created for a classroom – where teachers could illustrate lessons for students, or students could create their own stories.
"That's a project trifold board with a shower curtain screen," Ford said, pointing to a tabletop shadow puppet stage. He explained that by backlighting the stage with LED lights that don't generate heat, teachers could use colored tissue paper as light "gels."
For their performances, Ford instructed the teachers to choose a folktale to illustrate, and to incorporate elements of storytelling into the puppetry scenes. For example, a character's costume might be important to the story and thus a tissue paper cape could be crafted. Or, if the storytelling uses repetition of words, the teachers should include them in their puppet show.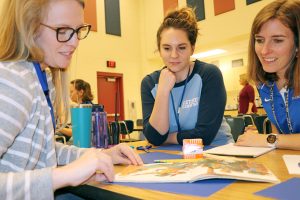 Exceptional Children teacher Cassady Dillin immediately said, "I want to do Abiyoyo." She said, "There's a singing component and I'm totally prepared to do it."
While Dillin's group worked on their ukulele-playing boy and dancing giant, another group crafted a mouse, a net, and a lion's paw to illustrate Aesop's fable of The Lion and the Mouse.
When it came time to determine where the "joints" of the puppets would be placed with fastener brads, Ford said, "As you make your puppets, really, your story will determine what your character has to do."
He said, "We want to think of our puppets as verbs; (their actions) can be our animation."
Faren Gee and Sara Webb's group decided that an important action for their beaver puppet in the Turtle's Race with Beaver story was a tail slap – so they made joints at both the tail and the mouth of the puppet.
Though Gee teaches fourth grade and Webb teaches second, the teachers were excited to incorporate their shadow puppets in their classrooms because Turtle's Race with Beaver aligns with elements in both grades' current curriculum.
Gee explained, "It's a Seneca people story," which aligns with the fourth grade's current lessons on Native Americans and storytelling.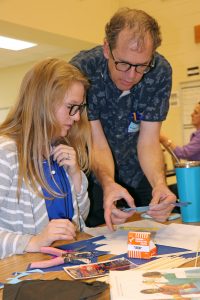 "In second grade, students have to be able to identify a lesson in a folktale," Webb said. "And they also have to read different versions of the same story," she added, explaining that the lesson in Turtle's Race with Beaver is similar to the classic The Tortoise and the Hare.
Not only will puppetry be an engaging method for teachers to use in lessons, Ford said, having students design puppets to tell their own stories will create excellent learning opportunities.
"Children have different learning styles – visual/spacial learners, kinetic learners, writers, interpersonal learners," Ford said. "The arts are uniquely positioned to tap into different learning styles."
He explained the visual/spacial and kinetic learners would flourish in creating the puppets, the writers would excel in creating the story the puppets would perform, and the cooperative project would appeal to interpersonal learners.
Sharon Hill, director of Arts in Education at the North Carolina Arts Council, echoed Ford and said the artist's visit with teacher and student workshops was so much more beneficial than a simple performance would be.
"It's one thing to have a performer come in," she said. "But to have the teachers be able to carry this back and apply the methods to the curriculum is invaluable."
Hill said, "It's showing how the arts can facilitate learning."
– By Molly McGowan Gorsuch
Public Information Officer