Reading Assessment Program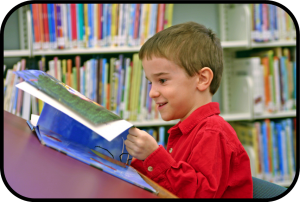 As part of Governor Perdue's Ready, Set, Go! Initiative nine of Henderson County's elementary schools have been selected to participate in the mCLASS: 3D Reading assessment program. The mCLASS: 3D Reading program measures reading skill development of K-5 students using the Dynamic Indicators of Basic Early Literacy Skills (DIBELS®) and the Text Reading Comprehension (TRC) assessments. This combination of assessments measures five important reading skills all children must develop to become proficient readers:
Hearing and using sounds in spoken words (phonemic awareness)
Knowing the sounds of letters and sounding out written words (alphabetic principle)
Reading words in stories easily, quickly, and correctly
Reading with comprehension, the ultimate goal of reading
Understanding and using a variety of words and learning new words
Teachers gather this reading skill data about their students by administering the DIBELS® and TRC assessments and then entering the information into mCLASS: 3D Reading software via netbooks. The software then disaggregates the data, provides individualized assessment information about each student's reading progress, and tracks the student's progress during the school year.
We are excited about implementing mCLASS: 3D Reading in Henderson County because this 21st century assessment tool will enable us to determine our students' reading progress quickly via immediate feedback from the mCLASS software and adjust classroom instruction to meet student needs in a much more timely manner than ever before.
For more information about mCLASS: 3D Reading, go to mCLASS: 3D Reading.
---
*HCPS does not certify the authenticity of information that originates from third parties. Under no circumstances shall HCPS be liable for any actions taken or omissions made from reliance on any information contained herein from whatever source, nor shall HCPS be liable for any other consequences from any such reliance. Responsibility for content within school Web sites rests with the principal of that school.