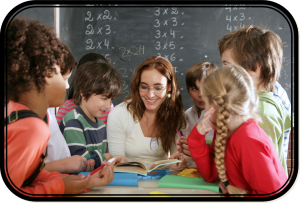 The Henderson County Public School system is composed of 13 elementary schools. Eleven of these schools operate on a traditional school calendar.  Two schools operate on a year-round calendar. (Click for all school calendars.) Ten of our twelve elementary schools qualify for and receive Title I funds which are used to support learning in language arts.
We serve approximately 6,300 students in grades K-5. We employ over 430 certified teachers, paraprofessionals, and other licensed personnel who support learning in our elementary schools. Our certified professionals encompass:
K-5 classroom teachers
English as a Second Language (ESL) teachers
Exceptional Children's (EC) teachers
Teachers of academically and intellectually gifted (AIG) students
Cultural arts teachers
Physical education teachers
Media coordinators
Instructional coaches
Literacy specialists
All teachers deliver instruction based on the North Carolina Standard Course of Study, which is comprised of  Common Core State Standards and the North Carolina Essential Standards for English Language Arts and Math and North Carolina Essential Standards for Science and Social Studies. Additionally, Henderson County Public Schools has established five initiatives, which provide a framework for instructional delivery. These five initiatives are: Thinking Maps Info, Junior Great Books Info, Four Blocks, Write From the Beginning, and Learning Focused Info.
All schools provide inquiry-based science instruction facilitated by the use of
FOSS Materials
.
Math instruction is organized in six major domains:
Teachers use multiple resources, including Investigations in Number, Data and Space, to build a strong foundation for mathematical thinking. In addition, students at all grade levels focus on eight standards of mathematical practice:
Makes and perseveres in solving problems.
Reasons abstractly and quantitatively.
Constructs viable arguments and critiques the reasoning of others.
Models with mathematics.
Uses appropriate tools strategically.
Attends to precision.
Looks for and makes use of structure.
Looks for and expresses regularity in repeated reasoning.
At each grade level, students are engaged in learning about their world through the acquisition of social studies concepts and competencies. Students also learn about health-related issues such as good nutrition during classroom 
health instruction
 and physical fitness during weekly
physical education classes
. Schools offer instruction in the areas of music and visual arts. Students learn
computer
competency and media skills at each grade level to assist them in the acquisition of knowledge.
The writing process is taught in all K-5 classrooms. Writing is integrated across all curriculum areas.
If you have questions, feel free to
e-mail us
.
---
*HCPS does not certify the authenticity of information that originates from third parties. Under no circumstances shall HCPS be liable for any actions taken or omissions made from reliance on any information contained herein from whatever source, nor shall the HCPS be liable for any other consequences from any such reliance. Responsibility for content within school Web sites rests with the principal of that school.