The following is an article written by By Jake Browning, Public Information Office Intern, HCPS. Click here to view the original article on the HCPS website.
If you think robotics competitions are only for the budding engineers in high school, think again. This month, Edneyville Elementary sent three robotics teams to the MATE (Marine Advanced Technology Education) Carolina Regional ROV Challenge and took all three top spots.
Representing the Edneyville Buzzbots were two elementary teams and a team of Edneyville alums in sixth grade at Apple Valley Middle. In their competitions, each team had to construct a remote operated vehicle (ROV) that could perform a series of underwater tasks. The tasks were based on real world robotics applications, and this year's theme was using machinery to maintain port cities.
The work wasn't just about robotics for the Edneyville Buzzbots, though. Under the supervision of Teachers John Rhodes and Jeremy Huff, the students raised an incredible $1,700 for parts, spent weeks drawing up plans, learned all the mechanical skills necessary to put the machine together, created a business proposal for the judges and prepared to answer any questions about their work in an effort to sell their robot to the competition's port city government. According to Huff, the entire process took six months and hundreds of hours per student. By the last two weeks, they were working every night after school to make sure their entry was perfect.
That hard work paid off. The three teams representing the school earned the top three spots in their divisions. Furthermore, each team's robot took first place in at least one category – despite competing against teams of older students. Most of the opposing teams were from middle schools, and most of the Edneyville students were in fifth grade or below. Niles, described by his coach as "a born salesman," is only in second grade, and his skill in delivering a speech for the judges was rivalled only by his talent on the dance floor.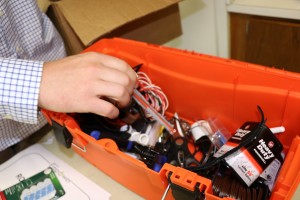 "I learned a lot about other people," Niles said of his experience with the project.
Indeed, the students learned a lot about math, science, reading, problem solving, engineering, public speaking, finance and a wide array of other professional skills. Some of them had never thought about pursuing engineering as a career before joining the project, but were excited about the future it could offer them afterwards. Scholarships come big in the field of robotics, and the teachers hope their students will stick with it long enough to enjoy the benefits.
"We're so proud of all of them," said Evyonne Emory, a parent volunteer with the team. "They walked in here clueless and they left proud of themselves."
* The Buzzbots aren't just making news in Henderson County, click here to check out an article from Rockingham County!