A second grader at Sugarloaf Elementary, Curtis wasn't prepared for the massive size of a high school lunchroom. When he and his classmates touring North Henderson High walked into the cafeteria Thursday, his eyes went wide and he mouthed, "Whoa."
Students in Karen Rainer's and Amy Comeens' 2nd grade classes were being guided through the high school by senior band students, as part of an arts immersion field trip.
The brainchild of Rainer and executed by North's band director, Steve Sigmon, the field trip for all Sugarloaf 2nd-graders was designed to spark interest for music education and band in the young students, and show them the opportunities awaiting them in middle and high school.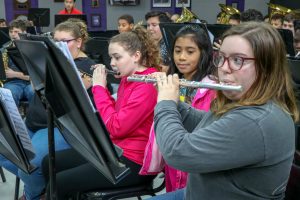 "To me, band is a way for kids to have art in their life forever," said Rainer, a proud former band kid. "It was a huge family for me."
The 2nd-graders were buzzing with anticipation and excitement as they ate lunch with their new senior band friends, talking about the differences in their schools, and wondering what to expect when they were taken to the band room.
"I like the saxophone," said 2nd-grader Xavier. "My sister has one, and when she's asleep I play with it."
Regarding the differences between Sugarloaf and North, 2nd-grader Taryn said, "It's way bigger (here). We have different Science. And, we don't have any trophies."
Taryn pointed to the athletic trophies in glass cases outside the high school gym, and once inside the band room, several elementary students oohed and aahed over the walls full of trophies earned by North's bands and ensembles over the years.
Huddled at the front of the band room, the Sugarloaf students listened to a couple upbeat pieces played by the wind ensemble. Then, the elementary students were invited to intermingle with the band, and sidled up to high school students who seemed just as giddy as their tiny counterparts.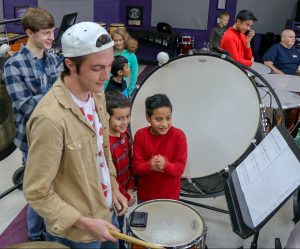 The first chair musicians in each section took turns playing their individual instruments to illustrate their unique sounds. They'd each chosen selections from popular songs the younger students might recognize, like the Super Mario, Star Wars, and SpongeBob SquarePants theme songs. Next, the 2nd-graders were invited to handle the big kids' instruments in what Sigmon called a "musical instrument petting zoo," before a lucky few got to try making music of their own.
"The brass instruments are played by buzzing your lips together," Sigmon instructed, as 2nd-grader Hannah stepped up to Javier and his tuba. "Javier's going to hold it for you because it's bigger than you," Sigmon said, chuckling.
Then, Sigmon instructed the Sugarloaf students to clap their hands on beat with his, and the band began to play in time to the clapping.
"What you just did was you kept the beat," Sigmon explained to the young students. "That beat gives them (the band) the basis for the rhythm."
After taking a few questions from the 2nd-graders – including a request for a few bass drum and gong hits – Sigmon plugged the free music education opportunities they would have in a few years when they entered middle school, and eventually high school.
"You don't have to have an instrument," Sigmon said. "If you don't have one or can't afford one, we'll still find something for you to play."
– By Molly McGowan Gorsuch
Public Information Officer