Fans of the Miami Hurricanes football team are accustomed to spotting a player on the sidelines sporting some major bling – the gold "turnover chain" bestowed upon each player who forces a turnover.
The turnover chain has been called "the greatest innovation in the history of this amazing sport," in a September 2017 tweet by David Wilson, Miami recruitment reporter for the DieHards sports recruitment news network.
And now at Bruce Drysdale Elementary, it's an innovation in inspiring positive student behavior.
School bookkeeper Janet Holm had been looking for a more personalized way to recognize students who'd been sent to the principal on "positive office referrals," for good behavior.
Holm said in the past, students would just bring the positive office referral slips to her, and she'd post them on the wall. But she knew that not everyone passing by could possibly know each student whose name was displayed, and she wanted something that would be more inspiring to the students.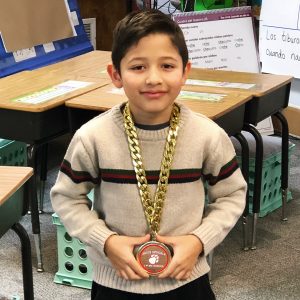 "I said, 'Let's get a crown or a necklace or something for them to wear,'" Holm said. "They need to be recognized (by their peers)."
Former head football coach for Hendersonville High, Bruce Drysdale's principal BJ Laughter knew all about Miami's shiny tradition and took a page from Miami cornerbacks coach Mike Rumph's playbook.
Beginning once students returned to school from the holiday break, Laughter has daily bestowed Positive Office Referral Chain on students who are referred for exhibiting good character, treating others with respect, and working diligently in their classrooms.
"We also call home and brag on them," take their pictures and post them on the school website, and send them home with gift certificates for a frozen yogurt from Sweet Frog, Laughter said.
On Thursday, first-grader Isaac became the 22nd student in January to proudly wear the chain through Bruce Drysdale's halls. His teacher had referred him to the office for always staying on task, speaking respectfully, and consistently making good choices.
The Positive Office Referral Chain has been a game changer at Bruce Drysdale, and Laughter knows the students feel pride wearing their medallions.
"You can just see it in their smiles," he said.
To check out all the students who have earned a Positive Office Referral Chain in January, visit Bruce Drysdale's page.
– By Molly McGowan Gorsuch
Public Information Officer