After two weeks of mapping their locations, scavenging edible tropical foods, and building watercraft out of found items, Hendersonville Elementary students successfully made it off Gilligan's Island thanks to the skills they learned during the school-wide STEAM Challenge.
For two weeks, all K-5 students studied Science, Technology, Engineering, Art, and Math (STEAM) units themed after a mission to escape from a tropical island. On Thursday, Oct. 19, each grade level competed in head-to-head boat races, experimenting to see whose handmade craft could sail the fastest – in an effort to take the students off the island.
Students had prepared for the race by making boats out of materials they hypothesized would float and sail the fastest – including plastic coffee containers, rafts made of popsicle sticks and Styrofoam bowls. As the 2nd-graders gathered outside and cheered on their friends, Alayna D. noted her friend Meadow's fast-moving boat made of cut pool floats.
"She made a smart choice," Alayna said.
Her classmate, Sophia I., explained another experiment the second grade had performed.
"We learned about sound and made instruments … so other people could hear us and rescue us off the island," she said. "We pretended that we used all these recycled materials we found on the island."
Sophia said her group crafted a drum/guitar hybrid out of an oatmeal container and rubber bands, and made adjustments when they realized the sound wouldn't carry far enough to be heard by rescuers.
"We added a cup to it so it would make it echo and make it louder," she said.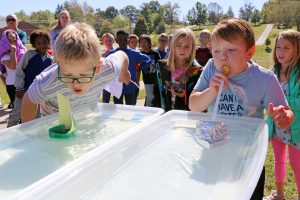 Throughout the school, other grade levels completed experiments to help them "survive" on a deserted island. Third-graders created casts to help heal a "broken bone" that occurred while stranded, using math to find the area of the body part that needed to be covered by the cast.
Fourth-graders read Island of the Blue Dolphins, and created a packing list of items they'd need to survive – using math to convert ounces and pounds to stay within the allowed weight limit. Fifth-graders learned about ecosystems and studied the ecosystem of their island, journaled about the resources available, and created maps of the environment using coordinate grid graphing.
Kindergarten students conducted sink or float experiments, and used QR code technology to reveal hints on treasure hunts they took around the school, while first-graders read books about islands and oceans, and solved integrated story problems.
The students were energetic participants in all the hands-on projects, but after two weeks they were excited to have successfully navigated off the island.
Sophia exclaimed, "Yay, we made it!"
– By Molly McGowan Gorsuch
Public Information Officer