With just a week before school starts for most students in Henderson County, the residents of Jaymar Travel Park are stocking Edneyville Elementary teachers with extra school supplies for students in need.
On Tuesday morning, Jaymar residents invited Edneyville's Principal Donna Brackett and seven teachers to a morning meeting, where they gifted the school with dozens of boxes of crayons, tissues, disinfecting wipes, hand sanitizers, pencils, and erasers.
"Walmart has no more pink erasers," Jaymar resident Linda Wegner said, laughing.
She and neighbor Pat Carlon organized the third annual school supply drive for Edneyville, and surpassed their donation goal.
"We put out a list of important items," Wegner said. "(Residents) take a copy of the list and go shopping or give us money."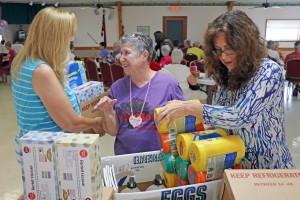 Brackett thanked the residents for their generous donation and told them how the school supplies impact students throughout the year.
"There are children who come to school who have the bare necessities," Brackett said. "You put a smile on their face when you hand them a pack of new crayons."
"As an experienced veteran teacher, I'm going to be stashing some supplies in the closet," said kindergarten teacher Lisa Souther.
She explained the new school supplies aren't just helpful at the beginning of the year; they help welcome and comfort students who have had to change schools mid-year and left their school supplies – along with friends – behind at the old school.
"It's not just about the first day of the school," Souther said. "It's about blessing those kids who are in those circumstances."
Wegner said she and the other residents at Jaymar are sympathetic to the rising costs of school supplies and other household financial obligations, and hoped to lighten the load for some Edneyville families.
"We have grandchildren and great-grandchildren, so we know how it goes," she said.
"What an awesome way to set an example for our community and our students," said Brackett.
– By Molly McGowan Gorsuch
Public Information Officer