Around this time of year, students are excitedly piling notebooks, scissors, glue sticks, and binders into shopping carts as parents read items off supplies lists for the new school year. That's a lot of shopping for a large family – but imagine shopping for 50 students.
That's what Anna Price did, on behalf of at-risk students whose families might struggle to afford school supplies.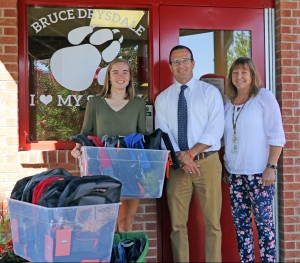 Price transferred from Hendersonville High to the North Carolina School of Science and Mathematics after her sophomore year, and after taking charge of local charity Pack a Backpack NC.
"I inherited the project from Kat Speese," Price said. "And my sister will carry it on when I graduate."
Price, her sister, and friends Megan and Chloe Pryor at Hendersonville High have been fundraising since December 2016 for this year's back-to-school donations of school supplies – which Price delivered to Bruce Drysdale and Hendersonville elementaries this week.
Price explained that Pack a Backpack NC's largest fundraiser is in December, when she and her friends sell poinsettias downtown for $15. Last winter, they raised $1,700.
With those funds, and a donation from a toy store, Price hit the back-to-school sales at Staples and ordered backpacks in bulk on Amazon.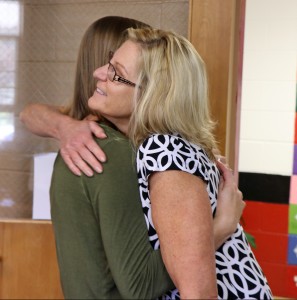 In each of the 50 backpacks she took to the year-round schools, Price packed notebooks, paper, folders, pencil cases and pencils, erasers, glue sticks, crayons, and colored pencils.
"We try to make them generalized and gender neutral."
When Price dropped off the backpacks at the schools, principals and school counselors expressed appreciation.
"That's huge of you," said Hendersonville Elementary Principal Kerry Stewart – who was Price's 5th grade teacher.
"We have great community partnerships," said Bruce Drysdale School Counselor Judy Holt, nodding to Price. She added, "Our kids get excited about new school supplies, and that helps them be more successful in school."
– By Molly McGowan Gorsuch
Public Information Officer