Reading is a learning skill, a rewarding hobby and an indispensable part of our everyday lives. That's why it's important for students to keep their reading abilities sharp, even over the summer when school's out of session. But what about students who don't have access to books outside of school? Emma Laughter has them covered.
Laughter, a rising senior at Hendersonville High School, did her junior research paper on the correlation between poverty and education. Along with insights from her father, Principal BJ Laughter of Bruce Drysdale Elementary, she found that students who don't have books to read outside of school are more likely to struggle with reading in school and in their daily lives. She also found that this was a particularly large problem at Bruce Drysdale, which has a high free-and-reduced lunch rate, and where an initiative such as Laughter's provides important access to literacy materials that otherwise might not be available.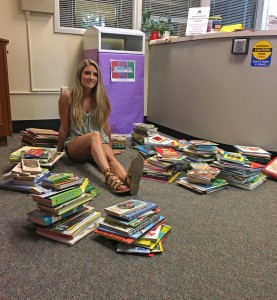 To help alleviate this issue, Emma Laughter began an effort to collect children's books to send home with Bruce Drysdale students over the summer, through the NC Reads initiative. She started at the end of April and hoped to collect a few hundred books by the end of the school year, but the community proved more supportive than she ever would have guessed. By the time school let out in June, Emma Laughter had received more than 1,000 books.
As she continued collecting books over the summer alongside Bruce Drysdale's "Read to Achieve" summer reading camp, she worked closely with the campers and listened to their stories. Emma Laughter said seeing the need in the community with her own eyes inspired her to continue the effort as part of her senior project in the upcoming semester.
Now, she's received about 1,000 more books to give students in the 2017-18 school year.
"She's saving those for October, when we have Green Meadows Night," said BJ Laughter.
The outreach night in October will be Bruce Drysdale's second annual parent engagement event for the families of Green Meadows – where a large number of BJ Laughter's students live. He organized the evening event last year, to talk to parents about the reading curriculum at school and to encourage them to read with their children at home for at least 20 minutes a day in order to improve students' literacy skills.
"You have to be able to read to do anything," Laughter said on the importance of her book drive. "Not only is this helping to instill a love of reading in the students, but it's showing them that people care about them being able to read."
– By Jake Browning, Western Carolina University
Public Information Office Intern, HCPS