In the far corner of Stephanie Patton's classroom Wednesday, two students were giggling as they held hands and took turns slapping their palms on a banana. Across the room, two other students were hooking wires up to dry erase markers.
Not nearly as chaotic as it all may sound, the Glenn C. Marlow Elementary students were testing the electric conductivity of various items in the room, connecting them to the wires of Makey Makey kits – which turned the conductive items into "keys" operating games on the students' computers.
Part of a four-day Science, Technology, Engineering, and Math (STEM) Camp at the school, students spent their "tinkering time" working in groups or independently to accomplish various challenges.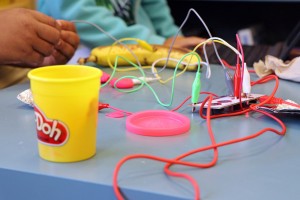 Rising 2nd-graders Coby and Kannon were working with rising 3rd-grader Sam to build a habitat complete with shelter, food, and water for their HEXBUG – a robotic bug that uses vibration to move, turn, and right itself when flipped. In addition to the required elements, the boys used red pencil to color in a bed of lava, and skirted it with some black pencil.
"You know when lava dries?" asked Sam. "It's obsidian."
Of the 12 students participating in the first week of camp, 10 were brand new to extracurricular STEM activities – which is exactly why the camp was created, Patton said.
As Glenn C. Marlow's STEM coordinator, Patton has seen student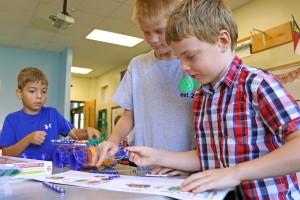 interest in Science, Technology, Engineering, and Math activities grow, through the school's existing STEM Club and regular parent engagement STEM Nights.
This year's STEM Camp is a summer extension of those activities during the school year, and is currently open to students at Glenn C. Marlow and Fletcher elementaries.
Patton was clearly excited Wednesday to see her students' enthusiasm as they connected circuits, built structures, and handled their own troubleshooting.
"We need to start them now, and build the foundation," she said.
– By Molly McGowan Gorsuch
Public Information Officer