Have you ever been stargazing in the middle of the day? A class of rising 1st-graders at Fletcher Elementary have, thanks to an indoor planetarium simulation brought to their school by the Pisgah Astronomical Research Institute (PARI).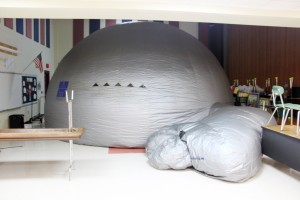 It starts with a nylon dome pumped full of air so that everyone can fit inside. Then, a digital projector covers the inside of the dome with a map of the sky. An operator can manually change the time of day for the presentation so the entire cycle of stars shines down on the students.
Christi Whitworth, the director of learning experiences for PARI, said the institute has been involved in astronomical research since the days of the Apollo space missions, but their current focus is on STEM education. When Fletcher sought them out to teach a summer learning day camp, they were thrilled to have an opportunity to tell students about the intricate history of the constellations.
The students were amazed to see stars form lines and shapes – even more so when they heard their mythological stories. Some of the shapes, like Leo the lion and Cancer the crab, were part of ancient traditions of astrology. Others had even older myths about them, like a pair of stick figures who turned out to be a soldier carrying his wounded brother. Not everyone could agree on what the shapes really looked like (Ursa Major's long flowing tail was hotly contested) but the most fun part of all was thinking up new shapes that could change the stories into something new.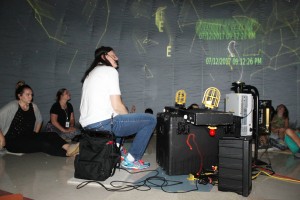 "It was so much fun seeing the pictures," said Lexi, a rising 1st-grader. "It was the best day ever."
The study of astronomy takes a lot of science and math, but Whitworth thinks it can play an important role in sociology as well. By taking the traditions of ancient civilizations and comparing them to the interpretations of today's children, she said we can gain perspective on how culture is created.
"The idea is to help students connect their own imaginations to what they see in the sky," said Whitworth. "Then they can connect that with the stories of our history."
– By Jake Browning, Western Carolina University
Public Information Office Intern, HCPS