From the foods we eat to the houses we live in to the air we breathe, everything we do is dependent on plants. However, plants don't do much talking, so it's easy to forget the role they play in our daily lives. That's why the educators from Hands On! Museum visit students to remind them about the importance of plant life.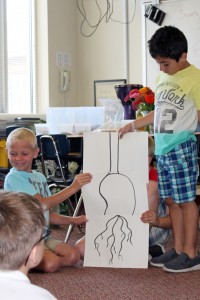 Hands On! is a learning center based in Hendersonville that provides children with interactive educational experiences. In addition to the exhibits and science programs they run out of their main building, Hands On! educators bring classes and experiments to local schools to supplement curriculum. One such class is "Shoots and Roots," which Education Coordinator Kay Campbell taught last Friday to students at Fletcher Elementary's Read to Achieve summer camp.
While in the guise of Hands On! mascot Dr. Beaker, Campbell taught a small class of students about the purpose of plant life in our ecosystem. She and the students discussed food webs, or interdependent food chains, and how plants can be found in the lower levels of the chains no matter what students may eat. Campbell showed off an electric light powered by nothing but the nutrients in a pot of soil and explained how a larger pot could be used as a cell phone charger. She even led the class in a game of Seed Survivor, in which students pretended to be newly grown palm trees and had to weather swarms of bugs and overharvesting.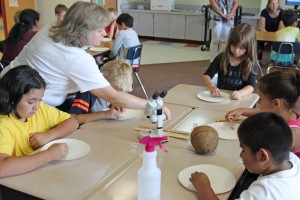 One of the biggest points in the class was utilizing plant life in a safe capacity. Even outside of work, Campbell makes her own fertilizer and compost so she can reduce her impact on the supply of natural resources. She says it's a key goal of Hands On! to make children more aware of the risks involved with overuse of resources.
"A big part of this is teaching kids that something doesn't just go away when you throw it in the trash," Campbell said.
The lessons in "Shoots and Roots" don't exclusively pertain to botany. Campbell explained to students that just as plants come in all sorts of shapes, sizes, colors and functions, so do people and they can all coexist. She also reminded them that science is just the analysis of the world around them, and that they are already smart enough to be a part of that process.
Indicating the students' own brains, Campbell said, "You got out of bed today with all of the tools you need to be a scientist."
– By Jake Browning, Western Carolina University
Public Information Office Intern, HCPS