Health science careers are often noted as having spectacular salary ranges, but it's easy to forget that the monetary compensation comes with an imposing time investment. Even after attending college and post-graduate programs for several extra years, experts in these fields work day and night, holidays and weekends, trying to keep the community in good health.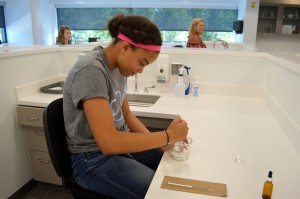 For students interested in the medical field, even a high school summer vacation can't be wasted time. That's why rising 9th-11th graders at Henderson County Public Schools spent last week at Health Sciences Career Camp, where they learned what they could expect if they pursued nursing, pharmacology, oncology, orthopedics, and other health science careers.
Offered to students at no cost, the first Health Science Career Camp was offered through a partnership among Henderson County Public Schools, Pardee UNC Health Care, Wingate University, and Blue Ridge Community College, and funded through a Golden LEAF Foundation grant – which has also assisted in providing simulation equipment for the HCPS Health Sciences programs.
The week started at Pardee's cardiac rehabilitation and physical therapy offices in Fletcher, located on the top floor of a shared facility with the YMCA and next to the Mission Pardee Health Campus. Greg Motley, the founder of Southeastern Sports Medicine, gave a demonstration on wrapping injured joints. Dwayne Durham, Pardee's sports medicine director, talked about the importance of hydration for student athletes, stating that the most common sports injuries like heat stroke are caused by lack of an ample water supply. He also explained the Return to Learn program, in which physical therapists work with students who have suffered concussions to ease them back into the mental strain of the classroom environment.
Since Pardee's cardiac rehabilitation and physical therapy programs in Fletcher works alongside the neighboring YMCA, students spent the afternoon touring their facilities to see where clients are treated for long term injuries. They also got a crash course in grocery shopping and how food nutrition education is an important part of the healthcare industry. According to Food Nutrition Specialist Lisa Riggsbee, food security varies widely among YMCA customers, and helping them keep up healthy eating habits in tough situations is a crucial part of her job.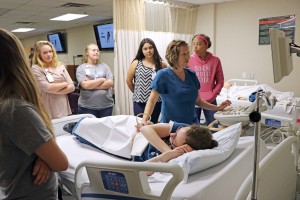 Later in the week, students visited Pardee's Cancer Center and main hospital campus in downtown Hendersonville and heard from doctors and nurses about oncology, radiology, ultrasonography, labor and delivery, and more. The highlight of Day 2 was cancer research, a subject very close to Oncologist John Hill's heart. A high school classmate of his suffered from cancer, and he's spent decades treating people like her and fighting the disease. He says that the job isn't about the disease, however, it's about the people.
"You have to be able to talk to the patients," Hill said on the demands of his work. "You need to be able to laugh with them and you need to be able to cry with them. Biology is a very small portion of what we do."
At BRCC, students worked with simulation manikins and learned about intubation and surgery, as well as the surgical technology, nursing, and EMT programs available on campus. "The demand for health sciences employees is growing daily," said Jay Alley, dean of health services and emergency services at BRCC. "We're trying to meet that need. Getting to students while they're in high school gives us the opportunity to get them prepared so they can become employed in the field and become assets to the community."
At Wingate University Hendersonville Health Sciences Center, students compounded a pain reliever solution using pharmacy compounding equipment and devices, and learned about Wingate's School of Pharmacy and physician assistant programs.
"We are thrilled to have the opportunity to interact with students through this program. With the construction of the Health Sciences Center, Henderson County is quickly becoming a leader in healthcare education," said Dr. Kurt Wargo, regional dean of the Wingate University Hendersonville Health Sciences Center. "For students, this means the ability to complete all their schooling here in Western NC. We always welcome any opportunity to speak with both students and their families to help make their dreams of becoming a healthcare provider here in Henderson County a reality."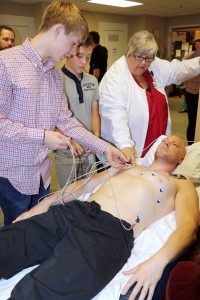 The students had a lot of good questions for the speakers, but the two most common concerns were education and salary. The speakers told them that both factors were hard to pinpoint due to the influence of experience, location and the current shape of the job market, but they all agreed that the amount of effort it takes to become a healthcare professional can't be justified by money alone. It has to be something the students are passionate about.
It takes a lot of effort and cooperation to get such an experiential learning camp with multiple partners off the ground, Amy Singletary, HCPS career development coordinator, said it's worth it to see students more engaged in their courses of study.
"We're hoping to build a strong partnership and expand this program in the future," Singletary said. "With classes or even job shadows, kids usually just sit and listen. This is something else."
Indeed, the students were surprised by how much hands-on learning the camp entailed. They got to tour operating and delivery rooms, examine synthetic cadavers and even perform ultrasounds on several hospital staff members. With so much
work that simulates real jobs, the students felt much more secure in their plans for the future.
"It really opens your eyes to a lot of fields," said Brittany Richardson, a rising junior.
"Because the job outlook for careers in health sciences is so promising, we hope these students confirm their desires to pursue a job in this field, and are able to identify some specific areas of interest," said Dr. Wendy Frye, director of high schools at HCPS. "Our desire is that these students stay in Henderson County where so many opportunities already exist."
Jodi Rector, health occupations teacher at West Henderson High, thinks all students can benefit from this level of exposure to a real workplace.
"The opportunities these students have had and the things they've seen are extraordinary," Rector said. "All the hands-on activity is very impactful."
– By Jake Browning, Western Carolina University
Public Information Office Intern, HCPS