Last week, Career & Technical Education teachers partnered up with teachers of traditional subjects to tour six industry sites in Henderson County, to learn how technology is moving local industry forward and to prepare their students for careers in science, technology, engineering, and mathematics (STEM) fields.
In its second year, the school system's Career Academy for Educators took high school and middle school CTE teachers and their partner teachers into Kyocera, Pardee Hospital, SMARTRAC, Current by GE (formerly GE Lighting), Multi Packaging Solutions, and Continental to learn more about the companies in their own backyards, as well as what the local manufacturers look for when they hire new employees.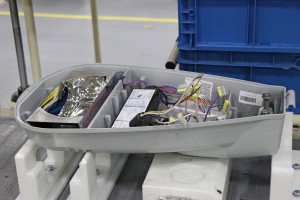 At Current by GE on Wednesday, teachers witnessed firsthand how technology has eliminated paper waste by digitizing everything from customer orders to assembly notes and wiring plans.
Human Resources Manager Terry Collins said the streamlined, high-tech production floor is a stark contrast to how engineering used to look at GE, highlighted by the digital industrial company's recent commercial featuring a young man telling his parents that he's been hired by GE as an industrial internet developer. His father proudly hands his son his grandfather's hammer, assuming he's going to need it to build powerful machines. The son explains, "Yes, GE makes powerful machines, but I'll be writing the code that will allow those machines to share information with each other," not swinging a hammer.
As technology advances, Collins said GE Lighting rebranded itself to become "Current, powered by GE" since the manufacturing facility isn't merely producing light fixtures, but is "tapping into the 'internet of things.'"
In a room full of different types of LED outdoor lighting fixtures, Collins pointed to the highway lights and said, "Imagine the data it can collect – wind, weather, humidity, temperature – and feed it back to a central location." He said there are already some cities using streetlights with sensors that can pick up the sound of gunshots and automatically dial 911 with the light's location.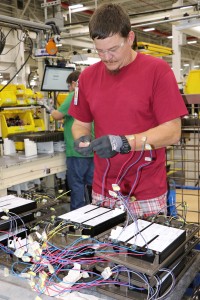 As a forward-thinking company, Current by GE hires using a temporary-to-permanent model, and also invites students to work multiple rotations at different GE through its Edison Engineering Development Program with partner universities.
A rising senior studying industrial engineering at Clemson University, Maddie told HCPS teachers that she's enjoyed having the hands-on process at GE in between classroom time at Clemson.
"GE is awesome at developing us and making sure we get good projects," she said.
So what is GE looking for in new employees? Collins said students should have a firm grasp on basic math, reading comprehension, and reasoning ability for entry level positions, and recommended taking a speaking or debate class to assist in developing interviewing skills.
Collins said team assembly associates can expect to earn between $31-35,000 annually, engineering/quality technicians who work with engineers to resolve product design and quality issues earn between $40-66,000, and entry-level engineers have salaries between $60-80,000.
At the conclusion of the tours, the CTE teacher and partner teacher pairs collaborated to create integrated lesson plans incorporating work-based information they gained during the tours – including employer expectations – to be taught at their individual schools in the coming school year.
– By Molly McGowan Gorsuch
Public Information Officer