The completion of End-of-Grade testing doesn't mean the end of learning. Seventh graders at Rugby Middle School were still studying the human body through the last week of school, and on Tuesday they invited the public to experience human body systems at the "Every Body" exhibition.
Principal Scott Moore said it is important for parents to see first hand what their children are doing in school after their final exam. Because of the long gap between EOGs and the end of the school year, some parents worry that their children aren't stimulated enough in the final weeks of class.
"Parents appreciate that we're not just holding them down after EOGs," Moore explained.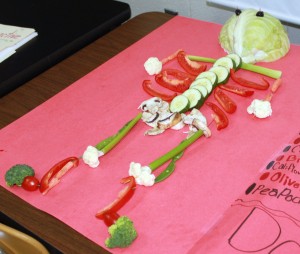 Kristen Johnson, a 7th grade math and science teacher at Rugby, said the exhibition was a great way to maximize student engagement in the material so the lessons they'd learned would make impacts on their lives.
"This is something to remember their 7th grade year by," Johnson said.
– By Jake Browning, Western Carolina University
Public Information Office Intern, HCPS