The district's official Teacher of the Year designations have already been awarded in Henderson County, but one local business is making a call of their own. Papa John's recently rewarded two Henderson County teachers and the students who nominated them for Papa John's Teacher of the Year award with free pizza for a year and a party for their classes.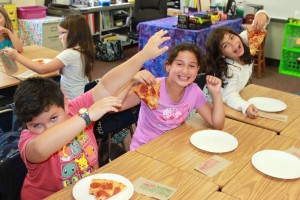 The first winner was Bill Shisler, a science teacher at Hendersonville Middle School. His 7th grade student, Sarah, had previously won the award for her teacher when she was in second grade, and this year's winning essay made Shisler proud of Sarah and the whole school's student body.
"Sarah is one unique young lady," Shisler said. "She's a great example of all the students at Hendersonville Middle."
The second winner was Melissa Golden, a 2nd grade teacher at Fletcher Elementary. After her student Miguel drew a picture of his class and submitted it to the contest, the class got a visit from Papa John's mascot, Mr. Slice.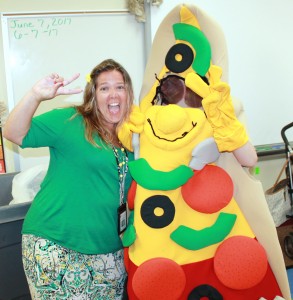 According to Esther Wright, a public relations representative for Papa John's (and that days alter ego for Mr. Slice), naming a Papa John's Teacher of the Year is a great way to get involved in the community. She said it's something that students and staff alike can get excited about, and it shows that Papa John's holds is interested in the accomplishments of local citizens.
"We're not just about feeding the community," Wright explained. "We want to be a part of it."
– By Jake Browning, Western Carolina University
Public Information Office Intern, HCPS