Fletcher Elementary had some fun in the sun today during the annual student-teacher kickball game. In celebration of the end of EOG tests, third, fourth and fifth graders got the chance to square off with their teachers in a contest that the whole school was invited to watch.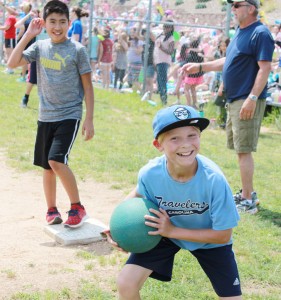 "It's a good way to relax after working so hard on the EOG," Gass said. "It's something the students and the staff can all look forward too."
Mary Shelton, a fourth grader and the daughter of Principal Jennifer Shelton, denies that her mom is any good at kickball.
– By Jake Browning, Western Carolina University
Public Information Office Intern, HCPS