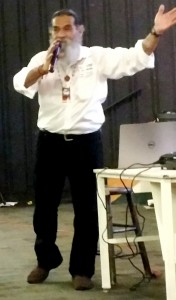 Ketzalli Xochiyaoziuatl, an expert on the Aztec calendar and its cultural significance, recently visited East Henderson High School to share his knowledge. According to his assistant, Holly Irene Cardoza, Xochiyaoziuatl aims to show people all around the world the spiritual benefits of his culture.
"We travel internationally to present ancient codices and reintroduce people to their cosmic identity and responsibility," Cardoza explained.
Throughout his speech, Xochiyaoziuatl emphasized the importance of respecting the world and all its creatures. While his own teachings were secular, he expressed gratitude for the forces of nature like the sun and the earth and said that thankfulness is the purest form of religious expression.
From the moment he opened his presentation with ceremonial salutations to the corners of the universe, Xochiyaoziuatl had the audience's rapt attention. He spoke with light hearted enthusiasm and made it clear that he was passionate about his subject matter. Drawing on historical context, the history of his own ancestors and observations about geographical progress in Western North Carolina, he painted a vivid picture of the ancient calendar and how it could be applied today.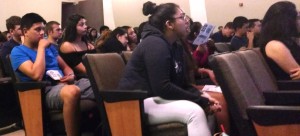 "I found it very interesting," said Bridgett Patterson, an East Henderson junior. "There's so much history in every part of the Americas. It's nice to learn all you can."
Not to be confused with the apocalypse predicting Mayan calendar, the Aztec calendar is a unique system of measuring time that was used thousands of years ago by the indigenous peoples of Central America. A day in this calendar is divided up into 20 hours, each of which contain 72 minutes. Each of those hours is represented by a symbol of values in Aztec culture, including the dog for loyalty, the flower for artistry and water for growth. These symbols are also assigned to days, forming a sort of zodiac.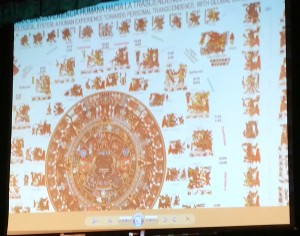 Unlike western astrology, which uses the signs to predict a person's personality, the Aztec calendar uses its symbols to give people "missions" from the universe, asking them to exemplify particular traits. These missions are not obligations, Xochiyaoziuatl explained, but responsibilities. They are like advice from the universe on how to be a better person while crafting one's own destiny.
"Every day we make our own destiny," he said.
– By Jake Browning, Western Carolina University
Public Information Office Intern, HCPS