Strut your stuff, Flat Rock Middle School.
Since Flat Rock does not offer design classes, Media Coordinator Natalie Ezell felt that students needed a way to express their creativity in an academic setting, so she started a fashion club in the school's media center.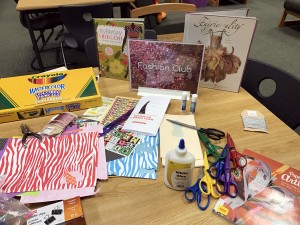 Utilizing a variety of crafts, including recycling tee shirts into purses, making accessories out of art supplies, designing full outfits with paper dolls and much more, her students had the chance to get creative with their fashion senses. Before school, after school and during lunch, students can come to the library and express themselves.
Keeping the necessary supplies in stock is a struggle for a club so big (more than 100 students wanted to participate on the first day) so Ezell was excited when she heard about Harris Teeter's "Together in Education" program, which was running a contest for school clubs. By submitting a picture and a summary of the club's activities, the fashion club won $100 in Harris Teeter gift cards to advance their cause. The temptation to spend it all on food was high for the students, but the money ultimately paid for a large quantity of crafting supplies, as well as new books for the library.
While everyday attendance has slowed down since the early days, involvement is still high and students are still excited. Every day one can find students using their school breaks to make new designs in the media center.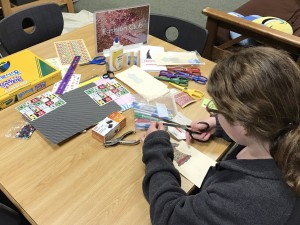 "It's a really good time to come and get creative," said Madison, one of the members.
Ezell is proud of the fashion club and their progress, as well as the breath of new life they have brought to the media center at Flat Rock.
"For me, the biggest thing is starting a pilot project and having the capability to turn it into a full program," Ezell explained. "It's allowed the students to see the library in a whole new light."
– By Jake Browning, Western Carolina University
Public Information Office Intern, HCPS