The last week in March is Farmworkers Awareness Week and the students at East Henderson High School held a "Farmworker Awareness Movie Night. Students were encouraged to ponder the question "Where does all of our food come from?"
Staff and students watched the film "La Cosecha" or "The Harvest," which follows the lives of three students between the ages of 12 and 16. It shows how they live balancing family, school work, and working in the fields. They travel from state to state, following the seasons, to obtain work harvesting seasonal crops.
Areli Perez Nava, migrant TA for the Migrant Education Program (MEP), played this film because it highlights high school student lives. She figured students would be able to identify with the people in the film since one of the students documented, Victor H., had been a former Eagle at East High who graduated in 2011.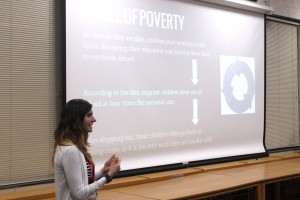 After the film, Leah Charbonneau, member of AmeriCorps, working with Henderson County Public Schools' MEP team, gave a short presentation. She shared information about issues that affect the migrant population such as the cycle of poverty, and how child labor laws don't apply to agriculture.
Charbonneau said, "North Carolina is 6th in the nation in the number of migrant farmworkers."
MEP Coordinator, Hunter Ogletree, shared information about Henderson County Public Schools' Migrant Education Program. Henderson County Public Schools annually serves 450 youth and children, including preschool age and out-of-school youth, in different ways.
"Our program addresses the education and basic needs of migrant youth," Ogletree said. "Migrant families often lack education, continuity, and access to community resources. We have services to overcome these challenges."
For more information about HCPS' Migrant Education Program, visit the department page or contact  Nicholas Faherty, In-School Migrant Youth Team Leader, at 828.388.1576 or Hunter Ogletree, Out-of-School Migrant Youth Team Leader, at 828.388.2881.
– By Alex Ramirez, Early College
Public Information Office Intern, HCPS