What goes best with a good book? On Saturday morning, it was a warm biscuit.
On March 18, Hillandale Elementary held its second "Books and Biscuits" event, to promote reading by giving free books to students who have limited access to them, with biscuits on the side.
In an effort to reach the community beyond the school walls, Hillandale Elementary held this "Books and Biscuits" event at the Green River Volunteer Fire Department.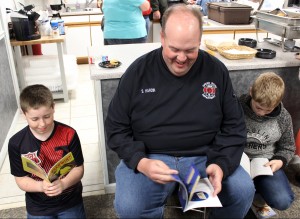 "Our Books and Biscuits event is a way to try and effectively engage our sub-communities of Hillandale," said Lead Teacher Kyle Barker.
The last "Books and Biscuits" event was held at King Creek to reach out to students that live there. This time, the school reached out to the Green River Fire Department because it is a good community hub for the Tuxedo/Zirconia area, said Principal Jenny Moreno.
"If we go into the communities… a lot more people would come," Moreno said.
The Parent Involvement Committee at Hillandale helped organized the event. Dawn Summers, reading specialist and member of the committee, said the committee was for "engaging and informing the parents about what (students are) doing in the classroom."
Moreno said that any child, siblings included, could have two free books, breakfast, and a small wooden car donated to the event by Fourth Grade Teacher Patti Engle.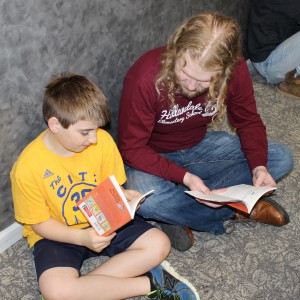 As families walked in, they saw tables of books with reading levels ranging from Pre-K to the 5th grade. There were a variety of books, including everything from "A Bad Case of Stripes" by David Shannon to the Magic Tree House series.
The children wandered around searching for books to take home, aided by school staff and fire department members who also read aloud with them.
Fifth Grader Makayla picked out an Alice in Wonderland-themed book and another from the Wings of Fire series, while her younger sister got a Superwoman book.
After the books were selected, families sat down and enjoyed a biscuit breakfast and socialized with each other and the staff at Hillandale Elementary. Families, school staff, and Green River Volunteer Fire Department firefighters practiced literacy skills while ultimately strengthening the community relationship that grows within Henderson County.
– By Alex Ramirez, Early College
Public Information Office Intern, HCPS