"How many years of school did you need to get your job?" "What's your annual salary?" "What would I need to do now to prepare for a job like yours?"
Students at Hendersonville Elementary drilled 11 local business professionals about their jobs Friday, March 10, during the school's second annual Career Fair.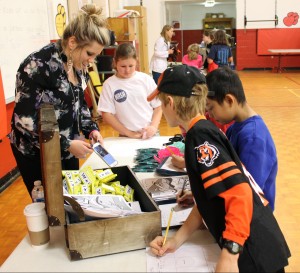 The students themselves were dressed in the uniforms of their future dream jobs, from teachers and nurses to chefs and military personnel, and met business professionals from a diverse group of careers – including a state trooper, airport public relations specialist, engineer, and podiatrist.
Third, fourth, and fifth graders visited the gymnasium to check out the different careers available to them. Each grade level was given 30 minutes to see the different careers and ask questions and interact with the visiting professionals.
"I love teaching career exploration," said Guidance Counselor Martha Sloan, who began and annually organizes the Career Fairs at Hendersonville Elementary. "At this age, we need to encourage them to explore different careers," she said.
An excellent example of networking, Sloan secured the adult volunteers through emails, professional connections, and friendships.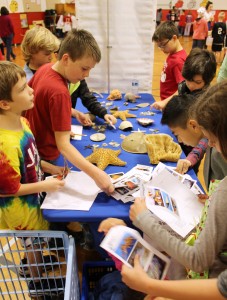 The career presenters came to the fair with plans in mind. They had pictures, models, and presentations for the children to see. Brenda Ramer from Team ECCO on Main Street brought in two tortoises from South America for the children to touch. Molly McGowan Gorsuch from HCPS' Public Information Department brought displays and bookmarks that she designed herself.
The students loved seeing all of the different career options. Andrew's favorite career was the state trooper and Brycan decided he now wants to to join the "military, state trooper, FBI, secret service, and be a businessman all at the same time."
Students learned that there are thousands of jobs available to them but, as Marketing Specialist Alexandra Bradley told the students, they need to find "what it is you love to do and apply that to your future."
For additional photos from the 2nd Annual Career Fair, check out our Facebook album.
– By Alex Ramirez, Early College
Public Information Office Intern, HCPS